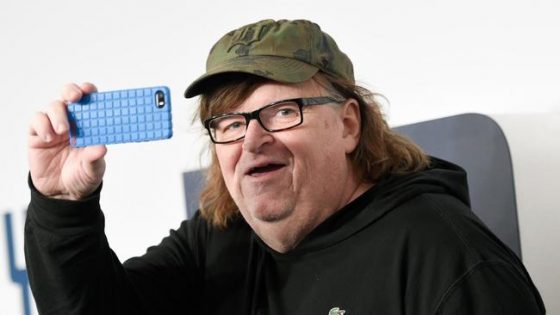 The hypocrisy of wealthy liberals knows exactly zero bounds. Rich and whiny liberal, Michael Moore, is so upset about the destruction that's been done to the environment, that's he's planning to destroy the environment to make a point.
And no, this is not a joke. According to Newsmax,  the infamous liberal filmmaker (who has gotten rich by exploiting other liberals) has threatened to begin fracking off the Florida coast.
We are back on the air in September — in prime time! "Michael Moore LIVE FROM THE APOCALYPSE!" Our fracking off the coast of Mar-a-Lago begins right after Labor Day. I've already got the rig — a beautiful Halliburton G-0008 fracking system with a monster Caterpillar engine! https://t.co/riUn0QgvkG

— Michael Moore (@MMFlint) January 6, 2018
His anger appears to be directed towards president Donald Trump, as Moore said the fracking will take place off the coast of Mar-a-Lago, which is Trump's resort in Florida. Long opposed to everything Donald Trump has said and done, Moore took to Twitter to openly protest the administration's decision to open nearly all U.S. offshore waters to drilling for oil and natural gas. Interior Secretary Ryan Zinke announced a plan Thursday, reversing protections in the Arctic, Atlantic, and Pacific.
The administration believes the proposed territory holds some 90 billion barrels of oil and 319 trillion cubic feet of natural gas, or reserves that are about 80 percent larger than is currently available. "Under President Trump, we are going to become the strongest energy superpower this world has ever known," Interior Secretary Ryan Zinke told reporters.
This announcement angered Moore and his liberal hypocrisy quickly came to the surface. In other words, he's going to protest the destruction of the environment by destroying the environment.
Here's our fracker! We'll be drilling right off the coast of Mar-a-Lago. God Bless You Donald Trump for making this possible! The oil we drill just off your beach will pay 4 our entire show! And any spills – we're going to let the ppl of Florida keep whatever they collect 4 free! pic.twitter.com/iGq2f1Gi33

— Michael Moore (@MMFlint) January 6, 2018
Moore is also all but saying he's planning an oil spill, something that has disastrous effects on the environment. But Moore's a liberal hypocrite, so in his mind, to protect the environment, he has to help destroy it.
Zinke said the draft National Outer Continental Shelf Oil and Gas Leasing Program for 2019 to 2024 would make over 90 percent of the outer continental shelf's total acreage available for leasing, including areas put off-limits by the Obama White House.
However, there may already be a kink in Moore's plan to frack of the coast of Florida. Florida Republican Governor Rick Scott immediately opposed Zinke's plan, saying that he had asked to meet with the secretary to discuss "the crucial need to remove Florida from consideration."