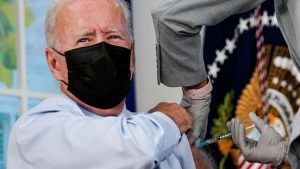 Joe Biden has been able to do the unthinkable. He's now the most disappointing president since World War 2.
Not that much can be determined from polling, and we know the rulers will lie if it suits them, but certain chants like "let's go, Brandon" have made it obvious where people stand when it comes to their distaste for Biden.
As much as it can, polling has indicated that Biden has lost the most ground in voter approval of any new United States president in more than 75 years. With only 42% of voters approving of Biden's job performance in October, his average rating in the third quarter of his presidency was 44.7%, down from 56% during his first three months in the White House, a new Gallup poll showed. His rating decline of 11.3 percentage points from the honeymoon period to the nine-month mark is the biggest drop since fellow Democrat Harry Truman was trying to fill the shoes of his deceased predecessor, Franklin Roosevelt, in 1945.
Change in Presidential Job Approval Q1-Q3, Y1 (Gallup)https://t.co/SQxfYAlQmp pic.twitter.com/EWo4wvDi3r

— Bruce Mehlman (@bpmehlman) October 23, 2021
James Corbett: "The Great Reset IS The NWO!" We Are Almost Out Of Time
It won't be much longer before the masses wake up and realize their vote is their consent to the system of slavery we currently have. Anyone who witnessed the 2020 election and somehow still believes voting matters is delusional at best.
If you think otherwise, know that YouTube censored rapper Bryson Gray's song titled "Let's Go, Brandon" over medical misinformation.
YouTube has banned "Let's Go Brandon" song from YouTube due to "medical information". What medical misinformation is in the song? Whoa. pic.twitter.com/W8sCcyH4IM

— CCG BRYSON (@RealBrysonGray) October 21, 2021
"Why is the most censored rapper in the country someone that doesn't even curse in songs?" Gray told Fox News. "Why can you rap about murder, sex, and drugs but when I rap about questioning the government I get banned? Is this still America?"
According to a report by Fox News, the song takes multiple shots at Biden regarding his chaotic Afghanistan withdrawal, cognitive ability, and handling of the coronavirus.
It isn't just master Biden most dislike. Many have figured out they don't need a master and aren't here to be slaves.  That's step one. All it'll take is more figuring it out to crumble this disastrous dystopian system and get rid of slavery for good.
There are men in all ages who mean to govern well, but they mean to govern. They promise to be good masters, but they mean to be masters." – Senator Daniel Webster (1782-1852)