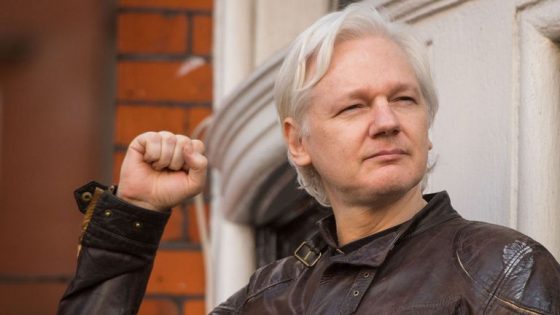 An inmate locked up with Julian Assange, Wikileaks co-founder, has released some images of the journalist, in which Assange is incredibly emaciated. The inmate released the images of Assage saying "he needs his story told" and he wants "people to know why exactly the USA wants him and what good he has done for the world."
According to a report by The Gateway Pundit, the inmate gave an interview with Cassandra Banks and asked to remain anonymous. Banks, who claims to have been exchanging messages with the inmate in question on Wednesday night, says that the media outlet has decided not to share images that may violate Assange's privacy, such as the photos of his cell's conditions. According to Banks, however, these photos reveal "a thin blue mattress within a scarce and very small cell."
https://twitter.com/barnabynerberka/status/1136558368091496449?ref_src=twsrc%5Etfw%7Ctwcamp%5Etweetembed%7Ctwterm%5E1136558368091496449%7Ctwgr%5E393039363b636f6e74726f6c&ref_url=https%3A%2F%2Fwww.rt.com%2Fuk%2F461215-assange-pictures-belmarsh-prison%2F
Assange is imprisoned in the United Kingdom and faces eighteen charges under the Espionage Act in the United States for his publication of the Iraq and Afghan War Logs. If extradited and convicted, he would face a maximum sentence of 175 years for the "crime" of publishing material that the US government did not want the population to know.
https://www.shtfplan.com/headline-news/in-the-war-on-free-speech-assange-says-everyone-else-must-take-my-place_05302019
Not long ago, it was reported that Assange's health is failing him quickly and he asked that in this current war on free speech, we all must take his place, and speak truth to power. According to RT, Assange is receiving medical treatment at the prison, due to ill-health. Assange's father John Shipton said that doctors had been called in at short notice. He said: "My visit was double booked, it has been canceled. (The doctor's visit) must be at short notice because a double booking occurred." Last month Assange's health deteriorated so much that a doctor was reportedly called at short notice to administer medical treatment at the prison.
When Banks asked the inmate if he was going to attempt to extort Assange with the photos he took, he replied. "Extort him for what reason? He exposed the biggest scandals in the world. Whose side do you think someone in prison would be on? The government who have us locked up in here or a fellow prisoner who actually doesn't deserve to be here?" 
The inmate said that Assange won't be able to win his case legally because the government controls the laws written.  "He isn't going to win this case through the law, he's going to win it because there's public outcry," the prisoner explained. He noted that the mainstream media is controlled by the government and said that "the internet is the one thing they can't control," sounding a bit like Assange himself.
Read The Gateway Pundit's article and exclusive interview report here.