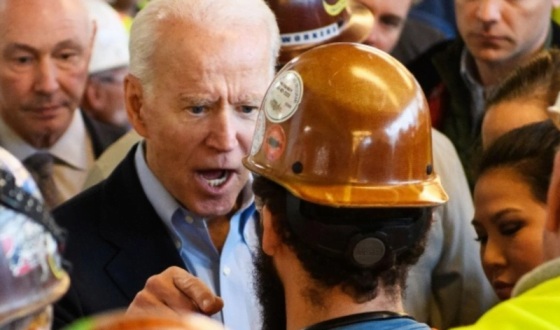 Creepy Uncle Joe is once again going off his rocker, and this time, it's over his plans to confiscate guns, which he called "AR-14s." Biden's tirade was against a voter who confronted the establishment elitists over his gun control promises.
"You're full of shit!" Biden yelled when a voter correctly accused the elderly establishment politician of "actively trying to end our Second Amendment Right."
"I support the Second Amendment," said Biden, adding in an incoherent ramble: "The Second Amendment – just like right now, if you yell "fire," that's not free speech… From the very beginning, I have a shotgun, I have a 20-gauge, I have a 12-gauge, my sons hunt. Guess what, you're not allowed to own any weapon," the former vice president ranted according to ZeroHedge.
"I'm not taking your gun away, at all," Biden continued – to which the man interjects "You were on video saying you were going to take our guns away," to which Biden replies "I did not say that."
"You did! It's in a viral video!" the man claps back. Then Biden says "Wait, wait, wait, wait, I'll take your AR-14s!" (Guns that do not exist.) Biden can have all the AR-14s he wants.
People are probably fine with Biden switching his platform to grabbing AR-14s. I don't think people will complain much.

— Erielle Davidson (@politicalelle) March 10, 2020
Watch Biden lose it when confronted with his own tyrannical promises.
Wow. The Biden video from this morning – up close – is worse than previously imagined.

I wonder if @DavidAFrench and @davidfrum still think this is a win for the Biden camp.

— Pete D'Abrosca (@pdabrosca) March 10, 2020
"Don't be such a horse's ass," @JoeBiden says after the man continued to yell at him.

— Bo Erickson CBS (@BoKnowsNews) March 10, 2020
And, for the record, the voter who confronted Biden was correct. The corrupt politician did threaten to take your guns just like every other authoritarian tyrant who has been running for the democrat nomination.
Yes, Biden has promised to "Ban the manufacture and sale of assault weapons and high-capacity magazines" if electedhttps://t.co/xUMRg7ce5f

— Charlie Spiering (@charliespiering) March 10, 2020
On top of all that, Biden wants to put full-blown communist Beto O'Rourke in charge of nationwide gun control. O'Rourke has also vowed to take your basic human right to self-defense against tyranny away.
Communist Vows He IS Coming For Your Guns
Gun Store Runs Out Of "Beto Special" Named After Gun-Grabbing Communist
Joe Biden says Beto "Hell Yes, We're Going to Take Your AR-15" O'Rourke will "take care of the gun problem" for him.

Don't be fooled: Joe Biden isn't any less radical than the rest of them. pic.twitter.com/tVpGCMmy9n

— Steve Scalise (@SteveScalise) March 3, 2020
Biden's attack is nothing new.  He's known for his inappropriate touching of women and his emotional authoritarian outbursts when confronted with his own Communist ideals.
Joe Biden Is Pushing For A Ban On ALL Semi-Automatic Weapons