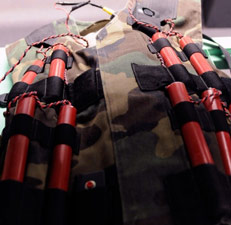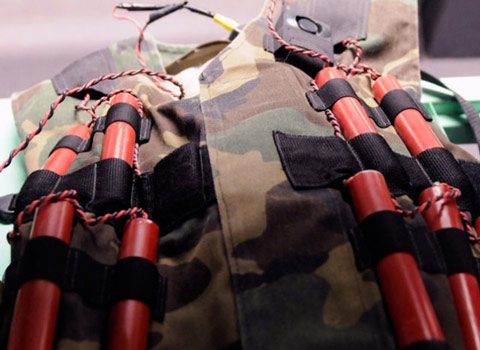 Last night Munich police acting on what has been described as a "very concrete" tip from French intelligence services recalled all public New Year's Eve celebrations in their city and surrounding suburban towns.
Though it was initially unclear why, police rapidly evacuated train stations just hours before the end of 2015 citing an imminent threat.
According to emerging reports, a terrorism interrogation in France led investigators to identify a suicide bombing plot targeting Munich train systems and the thousands of would-be New Year's Eve partiers who would be commuting throughout the city.
Police in Munich are now saying that as many as seven suicide bombers were planning simultaneous attacks across the city:
Police in Germany said Friday a New Year's Eve terror alert that closed two busy Munich train stations was prompted by the threat of suicide attacks linked to ISIS.

…

The stations were evacuated on Thursday evening and service stopped for around eight hours.

Authorities told the public additional officers were being called in to find possible suspects. On Friday, 100 additional officers were still on duty, Andrae said.

…

The information police received referenced five to seven possible attackers and included personal information for some of them. Those details included names and referred to both Syrian and Iraqi nationals, the chief said.
Available information at the time of this writing indicates  that the 5 to 7 individuals suspected of planning the Munich attacks remain at large, meaning that they may be selecting new European targets at this very moment.
It is not clear how Syrian and Iraqi nationals could have possibly entered the country, though we can venture a guess that it may have something to do with the recent disorganized and uncontrolled migration of some one million "refugees" from, you guessed it, Syria, Iraq and other mid-east countries.
Within hours of the Paris attacks in November of 2015 we warned that this was just the beginning and the more attacks would soon be carried out across Europe. Since that warning officials throughout the continent have identified weapons caches and more terrorist cells. In December Swiss police thwarted a chemicals weapons attack and French police seized a treasure-trove of what they described as "war grade weapons." Today we learned that a Swiss military official has advised citizens to arm themselves in preparation of social unrest and potential terror attacks.
But the threat of terror is no longer restricted to just Europe. After the San Bernardino attack we noted that the terrorists had help from other cell members and that the attacks were carefully premeditated and planned.  Last month law enforcement reported that a large amount of propane had been stolen in Missouri and foreign speaking persons purchased over 100 hundred disposable cell phones, suggesting that a large-scale attack on U.S. soil may be in the works.
FBI counter-terrorism experts say that the Islamic State is targeting America next, suggesting that Paris was merely a test to see if the terror group could effectively coordinate attacks on multiple targets in a large city.
With immigration policies in both Europe and America totally out of control it is highly likely that hundreds if not thousands of terrorists and sympathizers have entered the West. In November eight Syrians were attempting to illegally cross the U.S.-Mexico border when they were captured by Border Patrol agents. In 2014 US Congressman Jason Chaffetz publicly confirmed that terrorists have been captured on the border, though the Obama administration denied any credible threats.
Given that Border Patrol has already captured and identified actual terrorists crossing into the U.S., we must assume that hundreds of others have already made it into the United States and are actively planning attacks on the U.S. populace.
As we have warned our readers previously these people are at war. And the targets are you, your family and your neighbors. Prepare to defend yourself should you find yourself being attacked and prepare for the fallout that will no doubt lead to widespread de facto martial law declarations like we saw in Boston, where you may be restricted to your home for days or weeks.
Also Read:
Are Your Prepared For Disaster? A Step-By-Step Guide.
Report: Terrorists Captured At Mexico Border… But Homeland Security Denies Any "Credible Threats"
Uncensored: Shocking Graphic Video: Islamic Terrorists Kill Paris Cop, 11 Others In Muhammad Revenge Raid
More Attacks Are Coming: "The Intent Here Was Jihad And It Was Carefully Premeditated And Planned"
ISIS Believed To Be Targeting America Next: "Paris Merely A Test"
The Refugees Didn't Realize This European Woman Was Fluent in Arabic