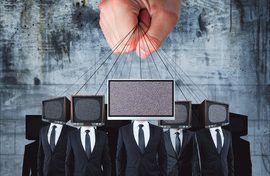 James Corbett of the Corbett report takes on the propagandists on a regular basis. In a recent video posted to YouTube, Corbett says that "the most effective propagandists BELIEVE the lies" that they are peddling.
People have become so convinced that other propagandists are telling them the truth that they fail to have any individual thoughts on their own, and peddle lies they believe to be true. In this example, Corbett looks specifically at Barton Gellman, an American journalist who helps deceive the public through his own false beliefs.  Gellman is with the Washington Post.
"We tend to think the propagandists are self-consciously lying to the public, but there are moments when the mask slips and we see that the most effective propagandists are the ones that actually believe their own lies," reads the Corbett Report's description of this video.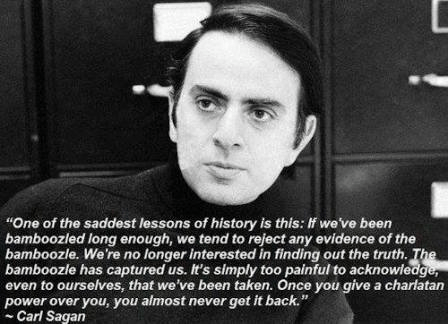 At 3:00 into the video, Corbett explains that a section of Gellman's book has been very revealing about the levels of propaganda he's willing to inundate readers with:
Apparently, even when "conspiracy theorists" are right, they are still wrong. Just as the government and mainstream media want everyone to believe. Gellman concluded that the NSA's operation "FIRSTFRUIT" that was spying on journalists was just a crazy conspiracy theory and we should look away and not focus on it any longer.
However, Corbett sheds some light on this:
"This is about belief and the worldview, and this is what you get from these mainstream 'respectable' journalists, in fact, it's what you get from every journalist of course, as I've talked about before. The myth of journalistic objectivity. But Gellman rides on that cloud of objectivity. He has the 'objective viewpoint'…'don't think too deeply about that'…" –James Corbett
This reminds me of another quote I've had a hard time forgetting since hearing it:
"The things that are going to be blocked are not going to be fake stories. The things that are going to be blocked and censored, the things they are going to keep from people is going to be stuff they just don't want you to focus on or know about." – Melissa Dykes
Gellman's take on accurate reporting from sources he just doesn't like reveals something we should all be aware of:
"I think it does say something important about propaganda and how it BEST functions through establishment media mouthpieces. Again, it's not that they have to hire liars who will knowingly know the truth but then go out and lie and propagandize for the lies and put those in front of the public as self-conscious lies. No. The most effective propagandists are people like Gellman who you know really deep down, really believe this propaganda construct that they are pushing out to others." –James Corbett
"Perhaps the biggest conspiracy theory is that conspiracies don't exist," commented a random person on Corbett's video. The truth in that statement, shouldn't be lost on anyone who has been paying attention, especially lately.