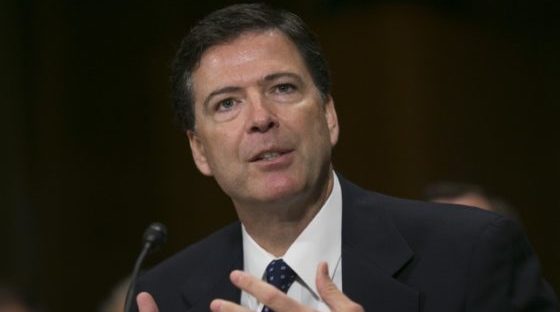 Former FBI director who was fired by president Donald Trump, and infamous for protecting the corrupt democrat, Hillary Clinton is calling on "patriots."  He's asking all patriots to stand up to Trump's behavior.
According to CNN, James Comey has expressed his outrage with President Donald Trump on Monday, saying he had taken the side of Russian President Vladimir Putin over his own country and calling on people to stand up against him. In a Twitter post, Comey asked patriots to "reject the behavior of this president."
This was the day an American president stood on foreign soil next to a murderous lying thug and refused to back his own country. Patriots need to stand up and reject the behavior of this president.

— James Comey (@Comey) July 16, 2018
Former CIA Director John Brennan went as far as calling Trump's statements "treasonous," while former Defense Secretary Chuck Hagel called it "a sad day for the world," and former Director of National Intelligence James Clapper, a CNN national security analyst, said Trump had "essentially capitulated."
The former intelligence community seems to be rather offended that Americans continue to reject their evidence-less assessment that Russia meddled in the 2016 election.  In fact, Russia has repeatedly denied such, and so far, other than some ridiculously worded social media ads laced with spelling and grammar errors, there hasn't been much proof presented to the public.  Unless you count the salacious and unverified dossier.
Making peace with Russia now is somehow a bad thing.  What happened to the anti-war Democrats?  It sure seems like being on good terms with another nuclear superpower is actually a good thing.  Trump's remarks that he didn't think Russia was responsible for tipping the tables in his favor during the election (Hillary Clinton was the other option- not exactly a worthwhile human being to cast a vote for) have been rebuked by many, not just the former FBI director. Some in the GOP are even claiming Russia did meddle in the election.
The Director of National Intelligence Dan Coats, a Trump appointee, also issued a statement reaffirming his confidence in the intelligence community's allegations against Russia and their "election meddling". "We have been clear in our assessments of Russian meddling in the 2016 election and their ongoing, pervasive efforts to undermine our democracy, and we will continue to provide unvarnished and objective intelligence in support of our national security," Coats said.