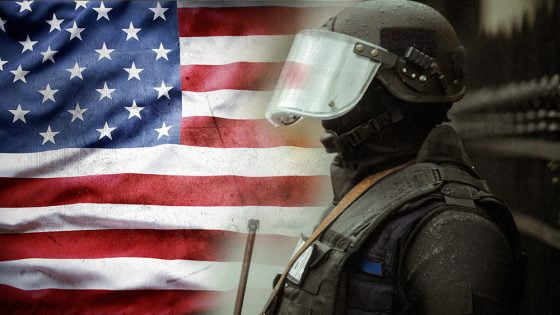 The United States has descended further into tyranny and the police are strengthening the ruling class' power by using force against the wrong people.  It's all a set up to divide and conquer. The police are allowing property destruction, but arresting store owners for protecting their own property.
Donald Trump isn't helping either. No amount of martial law will fix this, because the troops, like the cops, have their marching orders and take commands from the ruling class and political elitists, not us. It's time to wake up to what's happening on American soil! This is a fight for our basic human rights to not be ruled at this point.
In Las Angeles, the tense standoff at the city's Van Nuys neighborhood was filmed by a FOX 11 news crew.
Arrest goes wrong | Police handcuff shop owners who tried to PROTECT their property from looters

MORE: https://t.co/RVbQ7ZibwE pic.twitter.com/Azj79VP33W

— RT (@RT_com) June 2, 2020
According to the reporter at the scene, several vehicles drove up to a gold store, and a group of apparent looters attempted to enter the premises. They were confronted by the store's owners, two of whom were wielding shotguns. Another person at the scene had a large machete-type knife on his belt. According to a report by RT, the people, identified by the reporter as the store's owners, were heard yelling: "We're closed, bro." When the police arrived, several men had fled the scene and were chased down by the officers.
The police handcuffed and detained the people that had come out of the shop, prompting the reporter to shout: "They're the store owners! They're protecting the store!"
Because this is a fight for our basic human right to live without a ruling class, the government has done their best, with the help of the mainstream media to undermine the word "anarchy." Just to educate the readers, anarchy simply means: an-without archos-rulers. It literally means "without rulers." Nothin more, nothing less. Wake up.
https://twitter.com/Voluntaryist_/status/1267209283315343363
There's a reason they won't tell you this and say it's "anarchists" causing the rioting.  Those who don't want rulers will not be the ones trying to control you.  It's easy to misplace anger when so much is happening so quickly, but it's important to understand the end game here and WHY the ruling class needs you to hate "anarchists." When you don't want to live under a ruler, it simply means no one has a higher claim to your life than yourself. Isn't it obvious why they need you to reject critical thinking and simply hate those who want to live freely?
The book
TheMost Dangerous Superstition by Larken Rose
explains this the best. It's eye-opening, and once you realize what the ruling class has done to you in order to manufacture your consent to be enslaved, you won't ever go back to worshipping any politician.
We know they (mainstream media, the propaganda arm of the government) will tell you what they want you to believe, and sadly, people are still falling for it. The brainwashing isn't going to stop, but we can at least be aware of it instead of falling for it. Divide and conquer. It's worked for a long time, but once people examine the truth, that narrative fails.
It's time to look past the politicians and their hired enforcers and look into yourself. Who owns you? If you own yourself, and not some ruler or master, you're an anarchist too and they are making us all out to be the bad guys because we are rejecting their false authority over us.
The governments of the world know their time is up.  Too many see past the facade at this point, so they will do whatever they can to hold onto power for as long as possible. The beast will not go down without a fight.  Don't let them take your common sense, critical thinking, and mental health along with them. This is a war for your mind. Don't let the ruling class win!
After Brainwashing People For Decades, MSM and Governments Are Losing Control of People
It's time to really start to go within and figure out who you are and if you need a ruler or a master, or if you're a free sovereign human being.