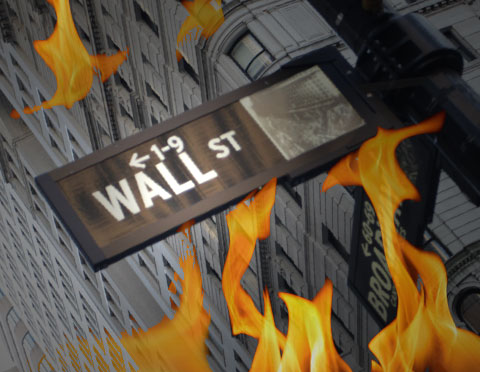 Beware of what may be coming next. We already know the establishment has a plan to blame President Trump for the next financial crisis, and now there are moves being made that will support that narrative.
After the 2008 fiasco, a spotlight on Wall Street misbehavior and some weak, but better-than-nothing regulations were put on the industry in the hopes of preventing another string of bank failures and crippling economic disasters.
But as the system teeters on edge and prepares to endure the backlash of increased rates at the Fed, Trump is also taking off the shackles that have been put in place by the Dodd-Frank Act which instituted certain protections for consumers, including a requirement that pensioners don't have their nest egg devoured, etc.
For the tens of millions of baby boomer retirees and aging pensioners, the social security net is all they've got to count on, apart from a few debt-saddled kids who have hardly been able to save a dime under eight years of Obama.
The 2008 economic crisis penalized everyone with an entire cycle of wage freezes, job starvation and crushing dependence upon government programs for assistance. Wall Street, and the banker class at large were spared from blame or reparations to a society that was robbed blind. Instead, eight years of quantitative easing sent a tidal wave of easy money to the financial sector that created a gorge of asset buy-up from the top – especially in housing, where soaring rates are forcing single households to become renters instead of mortgage debt-slave owners once again.
The election of President Trump created optimism about our collective financial prospects – with seemingly tangible promises of bringing home jobs and returning to American Greatness™. But the banksters also cheered his election; stock markets shot upwards in celebration. Key positions in the White House were offered to Goldman Sachs men and others of their ilk.
Now, President Trump has issued an executive order that has Wall Street once again self-congratulating for backing the right man. The order is expected to gut protections that currently require financial products sellers
As the London Independent reports:
Donald Trump is expected to order a review of the Dodd-Frank Act, which was implemented in the aftermath of the 2008 financial crisis to prevent a repeat of the worst financial crash since the Great Depression.

[…] council has the right to break up banks that it thinks could pose a systemic risk to the global financial order. It also has the ability to demand that banks hold higher reserves, or cash buffers, to minimise a squeeze. Separately, the Dodd-Frank Act also created the Consumer Financial Protection Bureau, to oversee consumer financial products, such as mortgages.

A key part of the Act is the Volcker Rule, which restricts the way that banks are allowed to invest and places restrictions on speculative trading. It also restricts banks from engaging in so-called proprietary trading, or trading for the firm's direct gain, instead of on behalf of a client.

So in effect, the rule is designed to separate the investment and commercial businesses of banks.
It seems clear enough that this move benefits many of those at the top of the pyramid, but a Bloomberg report directly quoting from senior leadership on Wall Street, and now inside the Trump Administration, makes crystal clear that the intentions are quite self-interested:
Chief executives including Goldman Sachs Group Inc.'s Lloyd Blankfein and JPMorgan Chase & Co.'s Jamie Dimon have been pushing for changes for years, arguing that the industry has been too constrained by the system put in place by the 2010 Dodd-Frank Act. After Trump focused on limiting trade and immigration during his first two weeks in office — policies opposed by many in the financial industry — the president's stroke of a pen unleashes a process to undo many of the rules they find most irksome.

"We're going to attack all aspects of Dodd-Frank," Gary Cohn, director of the White House National Economic Council, said Friday in an interview with Bloomberg Television. "We are going to engage the House, we're going to engage the Senate. They are equally interested in reforming some of the regulatory processes as well. We can do quite a bit without them, but the more help we get from Congress the better off we're all going to be."
Not necessarily the brightest news for the people.
Though it isn't immediately obvious that this change in the rules would cause immediate trouble, there is reason for concern. If the limitations – inadequate as they were – are lifted off the banks, specifically with investing in commercial banking and with pensions, things could once again take a turn for the worse.
If the same reckless behavior is repeated, it could not only bring the system to a halt, and crash the stock market, but it could potentially wipe out the holdings of those who need it most – pensioners.
Meanwhile, defaults and the burden of a debt-supercycle are also threatening to topple the system. One way or another, the next era will have to handle enormous risk of total economic crisis.
As the Independent notes:
Does this mean we're at risk of facing another financial crisis? Some economists have even been bold enough to say that getting rid of Dodd-Frank could indeed pave the way for another crisis.

What makes matters a lot worse, is that many experts believe that global financial systems and economies are more vulnerable now than they were ahead of the last financial crisis. So if we do suffer another major crash, the damage has the potential to be a lot more grave.

Central banks around the world have already slashed interest rates to record lows leaving them with limited ammunition to do more to stimulate economic growth. Government debt has also sky rocketed over the decade since the last crisis.
Whatever comes next, there is a toxic cycle that is waiting to crash down upon us with a tsunami of financial misfortune.
Federal Reserve policies in the wake of the last crisis set up the American people for a very bad fall. Economic vibrancy among the middle class and general population has been sucked dry, and they will be ill prepared to handle a new crunch in credit and possible hyper inflationary/deflationary crisis.
Trump's pro-business, pro-American policies may help if they are instituted correctly, but enabling the financial sector to once again prey upon people and fuel the rise-and-collapse of a massive series of bubbles and a derivatives WMD is not a healthy option.
The stage has been set for a nightmare that we must pray never comes.
Read more:
Trump About to Preside Over New Global Financial Crisis: "Not His Fault, Merely His Misfortune"