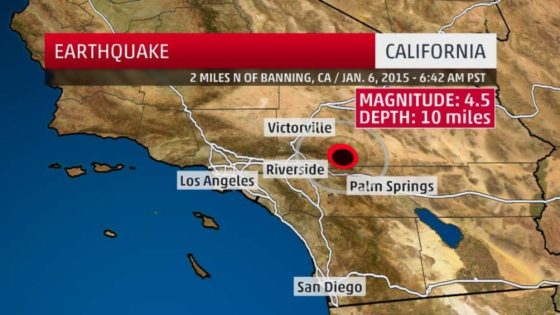 An earthquake this morning rattled a wide swath of Southern California, sparking fears that this may not be the worst.  The 4.5 magnitude quake struck near Cabazon about 6 miles south-southeast of Mt. San Gorgonio just before 5 am local time.
Residents felt the quake and warned others to be prepared because this was minor compared to historical quakes, and the close proximity to the San Andres fault line.
When you just realize you live a couple of blocks from the San Andreas Fault #earthquake #moving

— Janell (@catladysuicide) May 8, 2018
Stay calm. Breath. It's over. Little #earthquake in #LosAngeles. Make sure you have an earthquake kit, supplies and communication plan ready. #saddleup #toughenup

— Belinda Salazar Kizy (@calibel323) May 8, 2018
No damage has been reported yet as the magnitude appears to be fairly small, but the shaking was felt by residents across the Inland Empire. The quake occurred at 4:49 a.m. at a depth of 8 miles, the U.S Geological Survey said. Its epicenter was located in Riverside County, 6.8 miles north of Cabazon and 20 miles northwest of Palm Springs. It originally was measured as a 4.6 quake before being downgraded to a 4.5 magnitude. 
According to The LA Times, the quake was followed by several aftershocks. This marks the second time in little more than a month when the region was hit by a small quake felt over a large area. On April 5, a 5.3-magnitude quake centered in the Channel Islands off Santa Barbara County rattled nerves.
But experts have recently said that the Hayward Bay faultline in the San Francisco Bay area is more dangerous and volatile than the infamous San Andreas fault line. However, a large quake on either fault line would impact millions and cause untold amounts of damage based solely on population density.
The scariest scenario for the next major earthquake may not be from the San Andreas Fault (though that one still threatens), but from the Hayward Fault that runs along the east side of the San Francisco Bay. In fact, many say that the next earthquake on the Hayward Bay fault line would be "disastrous."According to KTUV, a magnitude 7.0 earthquake along the Hayward Fault could kill as many as 800 people and injure 18,000, according to results of a new research released Wednesday. –SHTFPlan
According to Business Insider, the statistical chances of this type of an earthquake occurring on the Hayward Bay fault line are not very comforting either. There's about a 76% chance that the San Francisco Bay Area could experience a 7.2 magnitude earthquake within the next 30 years, according to some recent reports.