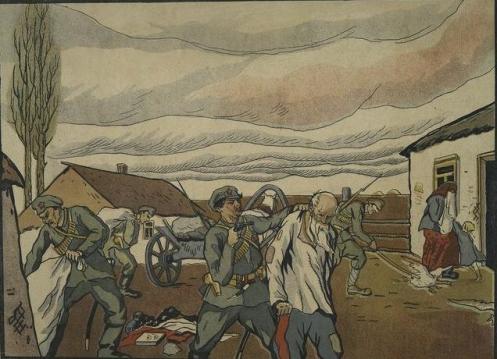 The foundation of the Soviet model of trade and investment was centralization under the guise of "universal public ownership". The entire goal of communism in general was not to give more social and political power to the people, but to extinguish alternative options and focus power into the hands of a select few. The process used to reach this end result can vary, but the goal always remains the same. In most cases, such centralization begins with economic hegemony, and it is in our fiscal structure that we have the means to see the future. Sovietization in our financial life will inevitably lead to sovietization in our political life.
Does the U.S. economy's path resemble the Soviet template exactly? No. And I'm sure the very suggestion will make the average unaware free market evangelical froth at the mouth. However, as I plan to show, the parallels in our fundamentals are disturbing; the reality is that true free markets in America died a long time ago.
The Tyranny Of Planned Economy
The characteristics of a free market society defy the use of centralized planning. Adam Smith's original concept of free market trade stood as an antithesis to what was then referred to as "mercantilism," a select few "joint stock companies" (corporations) monopolizing production while using government ties to destroy any new competition. Unfortunately, there are to this day economists and politicians who believe that corporate centralization is a "natural" function of a free market. In reality, corporate monopolies are an unnatural creation of collusion between governments and big-money interests designed to suffocate any entrepreneurship outside of their sphere of influence. Over time, as we now see in the United States today, government power and corporate power begin to hybridize, until one can barely be distinguished from the other.
The bottom line is that you cannot have planned structures, monopolized production or controlled capital flow within an economy and still claim it to be a "free market. There are no exceptions to this rule.
The Soviet system was the ultimate in centralization. Every aspect of financial life was dictated by the communist government, from industrial input and output to investment to food production and rationing to wages and retail prices. Some people might argue that this structure is a far cry from what we now have in the United States, but let's look at the fundamentals.
Controlled Money Creation
One of the primary tenets of The Communist Manifesto was the creation of a central bank meant to keep tight controls over currency issuance. The existence of a central bank immediately disrupts any chance of a true free market. Central banking without competition allows an oligarchy, whether corporate or political or a meshing of the two, to manipulate interest rates as well as adjust prices through inflation. Lending standards (which the central bank determines arbitrarily) built on fractional reserve banking opens the door to murky debt instruments and toxic financial products that are further used to either fabricate a "high" standard of living (as we saw in the U.S. in the 90s and early 2000s) or execute a bubble implosion causing a lower standard of living (as the U.S. is experiencing today).
Since the establishment of the Federal Reserve through subversive collusion between banking interests and corrupt politicians in 1913, America has not had a free market system. From that point forward, every boom and bust, every interest rate disaster, every inflationary increase in prices has been scientifically engineered.
Dominance Of Industry
Soviet controls on industrial output are legendary. Every part of the resource allocation process became subject to bureaucracy, and this led to stunted manufacturing growth as well as a culture of misrepresented economic data. In the United States, the establishment has taken a slightly different approach but with the same end result.
Heavy taxation on business ventures within the U.S. against entrepreneurs not lucky enough to run in elitists circles has erased incentives for manufacturing experiments within our borders. In the meantime, members of the corporate glee club receive government subsidization while they simultaneously outsource industrial projects to Third World nations. Controlled industry within communist Russia was meant to force the population to depend upon the government for every means of survival. In the United States, dependency on government has been replaced by interdependency on the globalized model in general. Necessities are now compartmentalized, and only select international businesses with cooperation from government have the ability to bring all the pieces together to keep our domestic economy running smoothly. Our society has been so distanced from self-sufficiency that many people now consider the globalist dynamic indispensable.
The next step in this degradation of free market industry is the introduction of "public works projects" by the federal government, which gives the illusion that job creation through centralization is possible.  This is the same strategy used in the Soviet Union and to this day, socialists still argue that the communist design for industrial expansion was "effective".  In truth, the soviet public works plan with all its trains and transits and bridges and buildings was an absolute failure, as the collapse of the country made clear.  Tax funded infrastructure is no replacement for free market invention, and at bottom, no public works enterprise can be undertaken without the government first stealing capital from one area in order to fund another.  Governments can never and will never create wealth or jobs.  They can only present the semblance of economic progress while siphoning wealth away from private citizens.
Bureaucracy And Food Production
U.S. Environmental Protection Agency and U.S. Food and Drug Administration regulations, based on dubious junk science and often instituted on high without congressional oversight, further erode business possibilities, especially for young companies as well as private agriculture, while giving free reign to elitist entities like Monsanto, an organization the government actually PROTECTS through specialized legislation making it nearly immune to civil litigation.
While farms in the United States are not exactly "controlled" by the Federal government in the Soviet sense, many of them are subsidized through welfare on the condition that they grow only particular kinds of crops, raise particular animals or grow nothing at all. This subsidization is an indirect form of price control, creating engineered scarcity or abundance. At the same time, agricultural empires like Monsanto make private farm ownership increasingly difficult by using their government protection to harass and squeeze out independent food producers.
This destabilization of private resource management by common citizens has culminated in the passage of President Barack Obama's executive order National Defense Resource Preparedness, which allows under a "national emergency" (which the President can declare for any reason) the confiscation of any and all private resources, including farms and businesses, to be redistributed by the government to ensure security conditions. This is the Stalinist model, pure and simple.
Centralized Control Of Investment
We now know that since at least 2008, the U.S. stock market, often presented by the mainstream as a paragon of free market prowess, has actually been propped up and inflated by Federal Reserve fiat. Both former Fed Chairman Alan Greenspan and current branch head Richard Fisher have openly admitted in separate news interviews that the central bank spends considerable energy in "artificially sustaining" equity markets. This has been done, I suspect, with full knowledge of the U.S. Treasury and the Obama Administration.
The Soviet model for investment was to remove all uncertainties from their domestic markets, often in the name of preventing manipulation by "speculators." The speculator rationale was generally a distraction away from the attempt to dictate the natural forces of supply and demand. The idea was that if the government could dismiss legitimate demand or lack of demand or hide excess supply or lack of supply, the perception of a balanced economy could be conjured for the population. This led to strict redirection of capital to areas where manipulation was needed to artificially pump up (or deflate) a particular part of the economy. The government became the sole investor of the Soviet system and, thus, the sole determinant of the success or failure of any particular market.
This is EXACTLY what is going on in America today, in what mainstream economists now call "the new normal". Federal Reserve fiat is being printed and dumped into every financial mechanism that supposedly maintains our country's fiscal health, including stocks, Treasuries and municipals, while trade volume remains low and private investment disappears. The Federal government now owes its very existence to the continued support of central bank dollars, and the Dow Jones does as well. If this is not the Soviet ideal, then I don't know what is.
Labor Oppression, Dismal Living Standards And Government Dependency
Poverty levels within the United States are at record highs. Nearly 50 million Americans are now dependent on government-subsidized food stamps for their survival. Nearly 100 million Americans receive welfare (or Social Security) in one form or another from the establishment. That is almost one-third of our entire population that relies on the system for at least a part of their sustainment. If Obamacare is fully realized, millions more Americans will also be conditioned to become dependent on government-designated healthcare providers. The point is not to pass judgment on those people who get money or services from the government, only to make clear our progression away from freedom and into centralized servitude.
For a Soviet structure to thrive, poverty among common citizens has to be institutionalized. Dependency requires a constant state of desperation. In America, this has been accomplished through a combination of inflated prices and reduced wages in conjunction with the destruction of labor options.
At the height of the communist machine in Russia, employment was ample; but the kind of employment one could apply for was dependent on bureaucratic red tape and availability based on a worker's record. Only the academic "elite" within the government-run cesspools of Soviet universities and military schools had their choice of employment; even then, they were often pressured into particular specialized fields, depending on the kind of labor the state needed done at that particular time.
In the United States anyone can certainly aspire to do whatever job he hopes to do. But again, options have been removed economically; and the same academic elitism pervasive in Soviet Union labor markets exists in America today. In a recent installment of his weekly radio show,New York Mayor Michael Bloomberg said it was better for "so-so" high school students to pursue a career in plumbing rather than go to college.
Though I rarely agree with Bloomberg on anything, my initial reaction was surprise at his willingness to steer American youth away from university indoctrination centers. However, upon further examination, it became clear that Bloomberg was not trying to save the next generation time and money. Instead, he is promoting a shift in the labor dynamic of the U.S. economy toward a Soviet-style foundation. Bloomberg knows well that the U.S. labor market will never return to its former glory, partly because he is a supporter of the globalist policies that ruined our economy in the first place. Instead of suggesting ways to reverse the trend of progressive poverty and the lack of high-end jobs that engender ingenuity and invention, elitists like Bloomberg are saying "forget your dreams and get used to being a drone."
In a 70% service and retail economy, where job availability is increasingly degraded and independent business is discouraged, Americans will have two choices:  Excel in the world of federally funded and propagandized education and sell your soul just for a chance at obtaining a professional career in a field of influence, or, settle for the leftovers.  Modern socialists often sing the praises of the soviet educational model for raising the literacy rates of once agricultural and isolated people to 98%, but what they fail to mention is that this literacy was only encouraged in order to create a more efficient servant class that was easier to propagandize.  The U.S. is moving into a similar paradigm.  For some people, being a plumber is a fine thing; but it should not be the only thing. In a true free market, a smart man can make his own way, even if he does not conform to the ideologies of the educational racket. In a Sovietized market, a smart man is prohibited from accomplishing anything unless he conforms to the ideologies of the educational racket.
Some people may respond that the centralization conspiracy within the American economy is an obvious thing today, and that there is little need to expose it any further.  I would point out that centralization is not the only issue here; the guidebook by which that centralization is being implemented is also important.  This has all been done before on the other side of the world only decades ago, and the end result was a horrifying cascade of social enslavement and mechanically inclined death.
In the end, the Soviet economy was so utterly fraudulent that the final breakdown of the system came as a complete surprise to many in political and economic fields of the era.  This is what happens when governments control all source data for financial statistics; transparency dies and collapse creeps in. Centralization is an absolute affront to the natural laws of supply and demand and an oppressive hindrance to the innovation that humanity thrives on. Such systems require constant theft from the populace in the form of reduced employment, reduced wages, reduced resources, increased taxes, increased price controls and a highly ignorant citizenry in order to function even for a short time. Sadly, the United States is well on its way in all of these areas, emulating a poisonous fiscal system and lending itself to a global economic tyranny in which all of us work much harder, for much less, and all for a government that seeks to use our very labor against us.
You can contact Brandon Smith at:  [email protected]
Alt-Market is an organization designed to help you find like-minded activists and preppers in your local area so that you can network and construct communities for mutual aid and defense.  Join Alt-Market.com today and learn what it means to step away from the system and build something better.
To contribute to the growth of the Safe Haven Project, and to help us help others in relocating, or to support the creation of barter networks across the country, visit our donate page here.