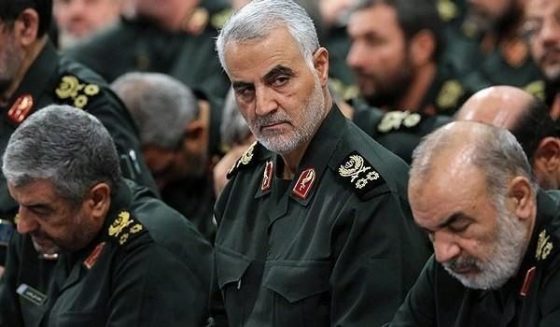 An Iranian special forces general has warned president Donald Trump against starting a war with Iran.  The comments by Major-General Qassem Soleimani, who heads the Quds Force of the Guards, are just the latest in rhetoric between Washington and Tehran.
"As a soldier, it is my duty to respond to your threats … If you want to use the language of threat … talk to me, not to the president (Hassan Rouhani). It is not in our president's dignity to respond to you," Soleimani was quoted as saying by Iran's semi-official Tasnim news agency.  Soleimani's message can be taken as nothing less than a warning to the United States, and that warning is simple: stop threatening Iran or you'll provoke a response.
"We are near you, where you can't even imagine … Come. We are ready … If you begin the war, we will end the war," Tasnim news agency quoted Soleimani as saying. "You know that this war will destroy all that you possess."  But according to Reuters, Israel's Energy Minister Yuval Steinitz said the fiery rhetoric of Soleimani was only "empty talk" because Iran is fully aware of "the strength and might of the U.S. military."
Trump had responded to supposed threats from Iran in a tweet a week ago.
In response to Iranian President Hassan Rouhani, who warned the U.S. that a war with Tehran would be the "mother of all wars," but peace would be "the mother of all peace," Trump threatened Iran in a tweet. Rouhani also cautioned Trump not to "play with the lion's tail, because you will regret it eternally." Trump then responded, likely heightening already sky-high tensions with Iran in the wake of Washington's decision to pull out of the Iran nuclear agreement, and told the Iranian president to never threaten the United States again. -SHTFPlan
https://twitter.com/realDonaldTrump/status/1021234525626609666?ref_src=twsrc%5Etfw%7Ctwcamp%5Etweetembed%7Ctwterm%5E1021234525626609666&ref_url=http%3A%2F%2Fwww.shtfplan.com%2Fheadline-news%2Ftrump-tweets-warning-to-iran-following-veiled-threat-from-the-regime_07232018
So far, Washington and Tehran have only a war of words. However, tensions continue to rise. Adding fuel to the fires of hot rhetoric was U.S. national security adviser John Bolton who said in a statement on Monday: "President Trump told me that if Iran does anything at all to the negative, they will pay a price like few countries have ever paid before."
Bolton has long been a warmonger and is a proponent of interventionist foreign policy. He was the U.S. ambassador to the United Nations in the administration of George W. Bush during the Iraq war and is infamous for wanting to start wars.