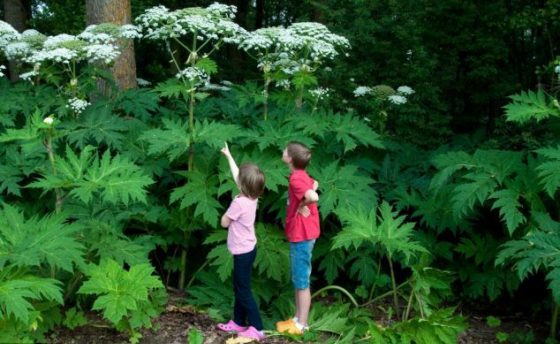 An invasive plant was discovered Tuesday in the northern part of Virginia. Officials are warning residents to be aware of this particular plant, as it can cause third-degree burns and permanent blindness.
The Massey Herbarium at Virginia Tech said in a Facebook post that 30 giant hogweed plants were discovered in Clarke County, located between Winchester and Leesburg, reported Fox News. 
Today I helped ID VA's first giant hogweed population! Its sap causes severe burns. One plant was found in Clarke County. Report sightings to your extension agent! ID help: https://t.co/VMkYqyaccB Thanks to @herbariumkeeper and @VTAgWeeds for ID help and report! pic.twitter.com/4BM9RhyMem

— Jordan Metzgar (@MasseyHerbarium) June 12, 2018
The sap can cause painful blisters that can form and become "dark and pigmented," and scars that can last up to six years, according to the New York Department of Environmental Conservation. More disturbingly, if the sap gets into the eye, it can even lead to blindness. Environmental officials in Virginia said that while there has just been one confirmed case in Clarke County, they fell it is necessary to begin warning residents in other parts of the state to stay alert for potential sightings of the plant.
"There have been reports from VDOT (Virginia Department of Transportation) of sightings of Giant Hogweed in the Staunton area and Middlesex County," Isle of Wight County posted to Facebook. "There is a strong possibility that the Giant Hogweed could find its way into the Tidewater/Coastal Virginia area."
Besides being a threat to humans, giant hogweed can also negatively impact the environment. The plant can grow up to up to 14 feet tall, which creates a lot of shade in the area inhibiting the growth of the native plant species.
How to spot the giant hogweed:
The large plants have hollow stems that are generally 2 to 4 inches in diameter, with dark purple and red raised spots and bristle-like hairs.
The flowering top of the plant has little white flowers in groups of 50-150 flower rays clustered into an umbrella-shaped flower up to 2.5 feet across.
Environmental officials say that extreme caution should be taken should you attempt to remove a giant hogweed. (And based on the information available about this invasive plant, removal is a good idea.)  They caution to NOT use a weed-whacker because the plant's sap can splatter and then spread quickly. Eradication should be done by physical removal or using herbicides such as glyphosate or triclopyr, according to the NYDEC.
After removal, continue to monitor the area for several years to make sure the plant remains eradicated. "It may be possible for hogweed seeds to remain viable in the soil for 15 years," the agency said. "For this reason, long-term monitoring is very important. Check the site and surrounding areas for the next several years for the emergence of any hogweed seedlings or regrowth from previous year's plants."