The destabilization of the middle east continues.
While the Obama administration touted the depositions of Egyptian prime dictator Hosni Mubarak and Libya's Muammar Gaddafi as victories for democratic reform, peace and social networking, it should be quite obvious that what's transpired in the middle east under the leadership of our Nobel Peace Prize winning Commander In Chief is yet another chapter in the broader destabization of the region.
The events of the last 72 hours have been particularly interesting, as they came on the heels of the President's refusal to meet with Israeli Prime Minister Benjamin Netanyahu about Iran's nuclear ambitions. The American public's waning sentiment for further expansion of the war in the middle east has forced Obama to take a wait-and-see approach ahead of the November Presidential elections.
That is, unless, there was a reason for Americans to get angry at the theocratic governments of the middle east, radical Muslims, and Iran's influence over the region.
After protesters raised the black flag of Islam over the US embassy yesterday, further rioting at the U.S. embassy in Libya this morning, and a coordinated attack that led to the execution of U.S. ambassador Chris Stevens, that change of sentiment may very well be taking shape now: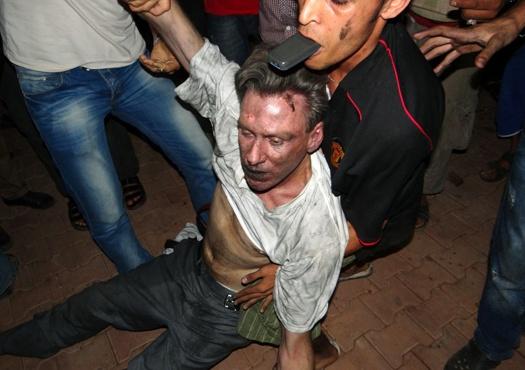 Gunmen had attacked and set fire to the U.S. consulate in the eastern city of Benghazi, the cradle of last year's uprising against Muammar Gaddafi's 42-year rule, late on Tuesday evening as another assault was mounted on the U.S. embassy in Cairo.

California-born ambassador Christopher Stevens was killed in the assault, but it was not clear how or where he died.

…

An evacuation plane with U.S. commandos units then arrived from Tripoli to evacuate them from the house.

"It was supposed to be a secret place and we were surprised the armed groups knew about it. There was shooting," Sharif said. Two U.S. personnel were killed there, he said. Two other people were killed at the main consular building and between 12 and 17 wounded.

The attack raised questions about the future U.S. diplomatic presence in Libya, relations between Washington and Tripoli, the unstable security situation in post-Gaddafi Libya and whether more protests might erupt in the Muslim world over the film.

Source: Reuters
The film is called Innocence of Muslims, and was produced by an Israeli amateur filmmaker named Sam Bacile, who reportedly received $5 million in funding from 100 Jewish donors. It depicts the prophet Mohammad in such a way that when Muslims in the middle east were shown an Arabic dubbed version of it this week, they turned their anger on Americans in Egypt and Libya.
Mr Bacile, a property developer who says he is an Israeli Jew, said he believes the movie will help his native land by exposing Islam's flaws to the world.

"Islam is a cancer, period," he said repeatedly.

Israel said it had not heard of Mr Bacile and there was no record of him being a citizen.

The film claims Mohammed was a fraud…

It depicts Mohammed as a feckless philanderer who approved of child sexual abuse, among other overtly insulting claims that have caused outrage.

Muslims find it offensive to depict Mohammed in any manner, let alone insult him.

…

Egypt's Coptic Christian community drew attention to the clip, stirring anger in its Muslim opponents, one of whom, Sheikh Khaled Abdalla, then screened a scene from the film on Egyptian television, in which Muhammad calls a donkey "the first Muslim animal." The prophet is also portrayed, the Times notes, "as a child of uncertain parentage, a buffoon, a womanizer, a homosexual, a child molester and a greedy, bloodthirsty thug." That was more than enough for the Egyptian media — and [pastor] Terry Jones — to run with.

Source: NY Mag, Irish Examiner 
The B-movie trailer that started it all:
Despite the obvious train wreck that is the Innocence of Muslims, it' noteworthy that it was reportedly financed by Jewish/Israeli donors, was dubbed in Arabic, and then released to Arabic news stations around the very time that President Obama rejected a meeting with the Israeli prime minister in which the military options for Iran would be discussed.
And then to have such a low budget, low quality movie be used as a pretext for the overtaking of two U.S. embassies and the murder of a U.S. ambassador puts to question the official narrative of how it came to be released across mainstream middle east networks.
Whatever the case, Americans are justifiably angry at the murder of their Ambassador by radical Muslim groups and the raising of the Islamic black flag over American sovereign territory.
Muslims, likewise, are angry at what they perceive to be a direct attack on their most hallowed prophet Mohammed and God himself – Allah – so much so that many are prepared to go to war over it:
"We sacrificed dozens and hundreds during the uprising for our dignity. The Prophet's dignity is more important to us and we are ready to sacrifice millions," said mosque preacher Mohamed Abu Gabal who joined the protest.
One can't ignore the distinct possibility that a third-party set these events into motion to create conflict and anger in the hopes of further destabilization in this region and improved sentiment among the American public for further military action.