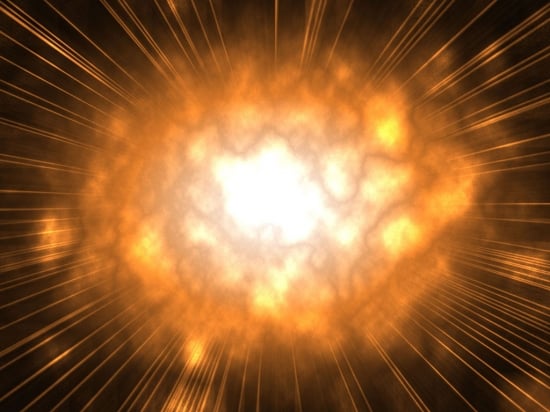 In the 1930's Georges Lemaitre presented the theory that our universe started with a Big Bang. For the better part of the 20th century, it was assumed that the Big Bang event took place in a matter of a few seconds and sent the necessary elements for everything from magnetism to stars to life flying throughout the universe.
In the 1990's, two Bell Labs researchers, Arno Penzias and Robert Wilson, were experimenting with a radio wave antenna to improve telecommunications when they happened across a faint, but constant 'noise' surrounding the planet. They weren't sure exactly what it was. At first, they thought their antenna wasn't working properly. A short time later, after scientists from Princeton University searching for remnants of the Big Bang learned of Penzias' and Wilson's discovery, they realized that the noise was actually cosmic microwave radiation believed to be 'left over' from the Big Bang.
What they found was evidence, not only of the theoretical bang, but evidence that suggested we are still within the explosion itself. The universe is expanding, say scientists, and by default, that suggests the original explosion has not yet dissipated.
The most intriguing part, at least to this author, is that during all this time, we had no idea that we are actually living within the explosion as it continues to further expand the universe. There are, of course, alternate theories to the Big Bang, as well as the reasons for why our universe continues to expand at an ever increasing rate of speed, but hopefully this analogy will help some to grasp the following concepts as they relate to our economy and global events.
We often discuss "collapse" in terms of an event that has yet to occur – a scenario that will unfold at some point in the future. The reality, however, is that we are already within the collapse. Most people have simply not realized it yet because they haven't been told by those in control of our information infrastructure.
Charlie McGrath explains:
I'm not coming out here telling you "get ready there's a pending crash coming" or "get ready collapse is coming." I'm telling you straight to your face – collapse has occurred in this country. Crisis is upon us, right here, right now. Not a year from now. Not ten years from now. We are in the midst of it as I speak to you.

This crisis, this collapse, occurred in 2008. Make no mistakes about it. Look at the world between today's date and backtracking to 2008. Is it a peaceful place where citizens are getting along because their governments and central bankers have figured out a way to save the economy?

…

If I look between 2008 and right now, if I look at the history in this short period of time, I see anarchy around the world. I see citizens pushing back. I see protests in every region of the world. Almost every week a new hot spot is popping up. I'm not making that up. This isn't crisis in the future. This is crisis now – here and now.

…

Open your mind. Open your eyes. Pull yourself out of the mainstream for a minute. Pull yourself out of the propaganda machine just for a minute and do an inventory of what's happened on this planet in the last two years since the collapse of 2008.
Facts are facts, and these data clearly demonstrate the ongoing disaster and that the watershed event has already occurred. The reality is, no one in any position of influence has done anything to reverse the trend – globally.
Just as our universe is believed to be expanding at an ever increasing rate with no end in sight, even though the Big Bang happened some 14 billion years ago, so too are the effects of the economic collapse gaining momentum :
There will be more unemployed – not statistically the way our government likes to count – but realistically on the ground. Millions who are without work are not being counted.
There are over 4 million homes in the shadow inventory right now, just waiting to be foreclosed on in 2011, plus the millions of others that just started defaulting on payments.
The US Government and Europe are taking on trillions in debt. Just in the US, the stimulus and bailouts have been estimated at over $23 trillion. And, this doesn't include the future liabilities amounting to some $200 trillion in debt. $23 trillion and nothing to show for it except for worse economic news than in 2008.
Our economy, contrary to the government's estimates, is not growing. It is contracting. While the mainstream tells us growth is near 3%, the Shadowstats alternative data from economist John Williams suggest it is -2%.
The cost of everything, except debt based goods like homes, is rising at an alarming rate. Two years ago we (alternative media) warned of coming inflation, and even hyperinflation. The media would have none of it. But the writing is on the wall, with many essential commodities up nearly 100% from two years ago. Even today, right now, Ben Bernanke continues to argue that inflation is under control at 2%. Soon, it will be clear that this is and was a lie. When retail food costs are double what they were in 2008, the rest of America may start waking up to what the Egyptians and Tunisians have been rioting about.
As people lose jobs, credit, and everything that they value, they will have no choice but to take to the streets. They'll either do this in the form of protests, riots or violent crime. What choice will they have when they can't feed their families. Sound impossible? Then you haven't seen this chart of food stamp participation increases over the last 2 years. It's on the verge of doubling from 26 million in 2007 to over 50 million sometime in the next 18 months.
This, ladies and gentlemen, is what a collapse looks like.
If history and science are any guide, there are a lot more elements from the Big Bang of 2008 that have yet to be discovered. Like cosmic microwave radiation, just because we haven't seen it yet, doesn't mean it isn't all around us ready to change the world as we know it today.