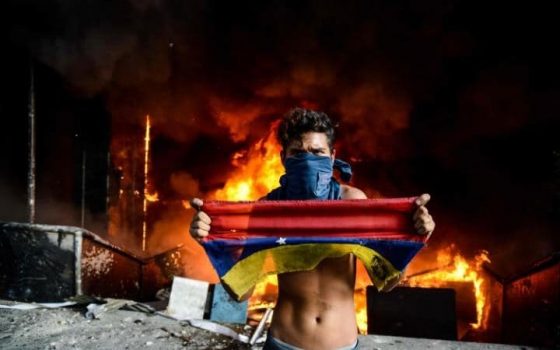 With the shooting and now gun control dominating American news, few noticed that the protestors who are being oppressed by an intrusive and socialist government set fire to the Supreme Court building in Venezuela.
Word of the fire was buried by the news of the American socialist who shot at Republicans because the country isn't socialist enough.  As if Americans could bury their heads in the sand further, gun control has retaken the leading role as a top debate on social media too. Of course, most have continued to ignore Venezuela, which is the home to people who are suffering under the tyranny of the very system those on the left seek to force on us here.
Since Venezuelans have been disarmed, for their own good, of course, the protestors who simply want a little bit of freedom back have had to use fire and violent protests to get the attention of the oppressive government. And they did just that when setting the Supreme Court building on fire.
The Supreme Court of Venezuela recently handed down a ruling in favor of the government of Nicolas Maduro which rejected a measure designed to prevent the dictator from rewriting that nation's constitution. The current plan is for a group of people largely selected by Maduro to elect a "constituent assembly" to draft a new version of the document. The court's ruling keeps that plan in place for the time being.
Protestors of the socialist government and it's tyrannical edicts were appalled at that ruling. These are people who are literally dying on the streets because of socialism, and they wanted their voices heard.  They spoke with fire on Monday. This is the twelfth week of violent protests in the country, as the resistance demands the resignation of President Nicolas Maduro and calls for elections. Violence broke out in protests at the Supreme Court over a bid to change the constitution, and Venezuela's chief prosecutor said on Monday her family had been threatened and followed by intelligence agents since she split with the government.
Fanned by anger at triple-digit inflation along with shortages of food and medicine, protests have grown smaller but more violent over the past two months, with at least 67 killed and thousands injured.
With the protests getting more violent and lack of food and basic essentials getting even harder to come by, Venezuelans are in a dire situation. This should be a perfect example to the leftists in America who continually vote to raise taxes and regulate everything while attempting to disarm the public.  But lessons are only learned one way – and that's to experience it.  Prepare now, because the country is continuing to take a hard left turn.