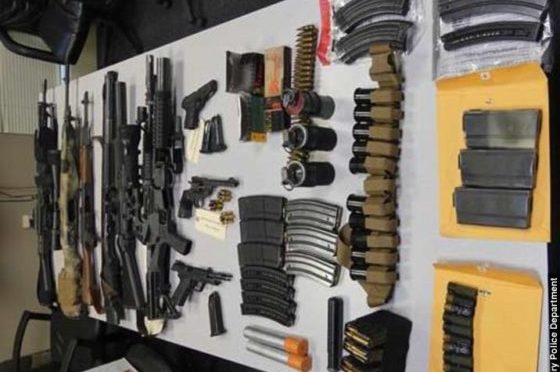 Francho Bradley and his common-law wife Adrianne Jennings were arrested in Boston on Saturday on weapons charges after authorities found a stash of rifles, grenades, and handguns in their hotel room. Bradley says he was on a secret mission for the government and says he owns a company that sells communications equipment to the military.
The cache of weapons was found on the day of the March For Our Lives protest. According to The Daily Mail, in Bradley's room and car, police found five assault rifles, a shotgun, a revolver and a pistol. They also found hundreds of rounds of ammunition, scopes, bump stocks, walkie-talkies, helmets, and grenades.  "My suspicions grew that he may be surveilling the area. There was a major demonstration, March for Our Lives, in Boston that day," Detective Patrick Connor
Police also found three parking tickets from Cambridge, a mile from the Boston Common where Saturday's protest took place. Bradley received the tickets on the three consecutive days before Saturday's mass protest.
When he was questioned, Bradley told authorities that he was on a secret government mission, but wouldn't say what the mission was. He claimed he was sent to work on some kind of "virus." Robert Normandin, who represented Bradley at arraignment, said his client is an Army veteran and that Enysma Engineering sells accessories such as communication devices to the military and other clients.
https://twitter.com/MikeTokes/status/978976507614846977
Normandin said the weapons and accessories were "props" that Bradley uses while conducting that business and none of them were functional, although he didn't know for sure if any were actually functional or not.
The officers who arrested the pair said they both changed their stories several times and at one stage during interviews, Bradley claimed he had worked for the LAPD and had knowledge about the O.J. Simpson case. He also allegedly claimed to have worked on the Obama campaign and for the German government.
At 3:41 pm, as the protest was coming to an end, Bradley called the police saying his feed was interrupted. He said he has a gun in his room at the hotel and was worried it would end up in the wrong hands. When the officers arrived at Bradley's hotel room, they encountered an even stranger sight.
No one was in the room but the officers spotted what they thought was a green duffel bag with several "long guns sticking out of it." It was, in fact, a flight suit which had been rolled up to contain the weapons. It was placed deliberately in the middle of the room as if it was left there for the police to find it. 
Among the items found, was a DOD (Department of Defense) concealed carry badge, a Texas license to carry, and a press pass, according to The Daily Mail. His Texas license to carry is valid.
Bradley and Jennings have separate addresses as well. Bradley's is listed as a four bedroom home worth $322,000 and Jennings' is a five-bedroom property worth $430,000.
Police are continuing the investigation, and this one keeps getting more and more confusing.