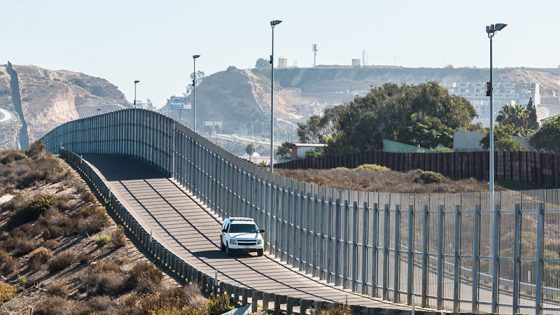 Details have begun to emerge following an attack by illegal immigrants that left one border patrol agent dead and another seriously injured and fighting for his life in a hospital. The agent was killed after illegal immigrants smashed his head in with rocks.
Breitbart Texas first broke the news of the death and injuries and now the National Border Patrol Council (NBPC) says that their agents on the ground have stated that the agents were tracking a group of illegal aliens who then beat the agents with rocks until one was killed and the other hospitalized.
Border Patrol Agent Brandon Judd, also president of the NBPC, stated, "What we know is that Border Patrol Agent Rogelio Martinez appears to have been ambushed by a group of illegal aliens whom he was tracking. Our agents' reports from the ground say that he was struck in the head multiple times with a rock or rocks."
Agent Judd continued, "The other agent arrived on scene a short time later and was also ambushed and struck in the head with what is believed to have been a rock or rocks. These disgusting acts and complete disregard for human life need to stop immediately. Family members of slain Agent Martinez will never get to see him come home again all because we have failed to secure our borders from such criminals."
Shortly after Breitbart Texas broke the news of the incident, Customs and Border Protection (CBP) confirmed that one Border Patrol agent was dead and another hospitalized in serious condition; however, authorities would not provide more details. Breitbart Texas was unable to confirm the details with CBP and other federal agencies. The NBPC is the organization that represents approximately 16,000 of our nation's Border Patrol agents. –Breitbart
According to Fox News, details around the attack remained murky Monday, however, an FBI spokesperson said Rogelio Martinez and his partner were not shot and a National Border Patrol Council official told KTSM the assailants were "undocumented immigrants" who used likely used rocks to bash the agents. "We strongly believe rocks were what was used," NBPC Vice President Art Del Cueto said.
What is known, is that that two Border Patrol agents working as partners in the Van Horn Station area of responsibility of the Big Bend Sector responded to "activity." Whether the activity was an activated sensor or something else is currently unknown. This occurred on the morning of Sunday, November 19, 2017. One of the Border Patrol agents later radioed into the communication center saying that he needed assistance and that he was injured. Other Border Patrol agents responded and found one agent injured and unconscious with injuries to his head and body. That agent, Rogelio Martinez, was later pronounced dead. Breitbart has learned that the agent's family has been notified. The responding agents also found the partner who had radioed for help. The agents transported the injured agent to the hospital where he is in "serious condition," according to the official. Border Patrol agents and Culberson County Sheriff's Office deputies have secured the area.