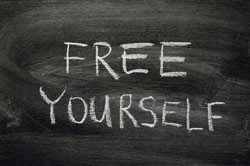 It cannot be stressed enough that a lot of Americans have rolled over and accepted their enslavement to the government, and the elitists who control it. But the fix is simple: we must no longer comply with tyranny.
It's past time to disobey the lockdown orders.  It's past time to support those who have already disobeyed.  It's past time to stop begging your master for permission to have a little freedom back.  Protests don't work, and free men shouldn't be asking for permission from those who enslaved them, to begin with.
Larken Rose's excellent video on the topic should at least get some people to pause and think. "Guess where it says in the Constitution that unless everybody gets sick, then civil rights are out the window? Nowhere!"
Overlooked Prepping Skill: Critical Thinking
If we ever expect to have even the most basic of human rights ever, and not see our children live in enslavement, fundamental questions need to be asked and we need to ask them now. Larken Rose questioned the "authority" of the governor of Arizona in a video after stating the fact that governors who demanded businesses to close "pulled a Hitler."
"He absolutely pulled a Hitler, and unfortunately, it's not at all that unusual! Power-hungry jack asses around the country are doing this and millions of Americans are going 'golly gee. I guess we better stay at home because the authority figure said we had to.' If you even believe he has any authority, where does it come from?"
It's time we all stand up to tyranny and say:
"Screw you! I can leave my fucking house if I want to! I can go do work for other people if they want me there. You have ZERO authority even under your own stinkin' rules! And the fact that a lot of people aren't gonna bother to look that up doesn't change it!

It's pathetic! In the 'land of the free,' how many Americans are proudly waving that flag don't even hesitate for 5 seconds to wonder 'how the hell did these people get the power to just do whatever the hell they want?' No due process. No proof. Wer're just gonna stop you on your way to work and 'you have to prove to us that you're essential."" –Larken Rose
How have we allowed this to happen? Most of you aren't going to like this, but it's the truth:
"Because you think like slaves. You think like subjects of a totalitarian regime. How do you think totalitarian regimes happen? Because they et their people to think like subjects of a totalitarian regime!"
It's easy to correct though:
"If you want to hold on to the shreds of freedom that are still left, don't act like a slave! Act AT LEAST like somebody who's capable of looking something up for two minutes and saying 'you don't actually have the right to tell me I can't leave my house.'

It's time to maybe wake the fuck up and be a self-owning free human being and start to question this shit."
It was a fraud and a lie.  The entire COVID-19 scamdemic was a global tyrannical takeover and enslavement of every single human being on this Earth.  It ends when we say it ends, but we have to stop complying with it.
Tyranny Ends When We Say It Does, and That Time Is NOW With The Free Market