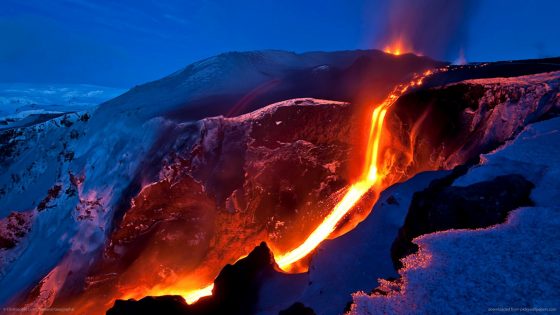 The largest volcano in Iceland is showing scientists signs that it could erupt. It's now under close surveillance after centuries of slumber.
The Icelandic Met Office has received reports of the surrounding area smelling of sulfur, while geothermal water has been released from the volcano into a river on the surrounding glacier, reports Iceland Magazine. Scientists believe that this geothermal water caused a section of the volcano to collapse, producing a new caldera.
The new caldera (a basin-shaped volcanic depression) has been discovered by scientists in Öræfajökull. Because of all of these unusual events, Iceland's Civil Protection Agency has declared an uncertainty phase. That's basically a warning that there may be a threat in the near future. At the same time, the Met Office has issued a yellow warning.
While earth scientists studying the volcano are reluctant to give any sort of timeframe for an eruption – as always, eruptions of even active volcanoes are notoriously impossible to predict – there has been considerable geothermal heat measured at the caldera, and the release of gases has been detected. As such, nothing is being ruled out.
Bryndís Ýr Gísladóttir, natural resource specialist at the Met Office, told newspaper Morgunbladid: "We issued a yellow warning for security reasons because we actually don't know that much about Öræfajökull glacier, nor how it behaves because its last eruption occurred in 1727, and 1362 before that."
According to the Independent,  Öræfajökull features Iceland's highest peak and is thought to be one of the most powerful volcanoes in Europe. It is responsible for the country's second deadliest eruption after a steam blast in 1362 deposited 10 cubic kilometers of debris across farmland and killed all inhabitants across dozens of farms.
Although still sparsely populated, the region can attract thousands of tourists at the height of the holiday season. The Icelandic Civil Protection Agency estimates there would only be a 20-minute warning before an eruption, however, adding to the danger of this volcano's recent activity.