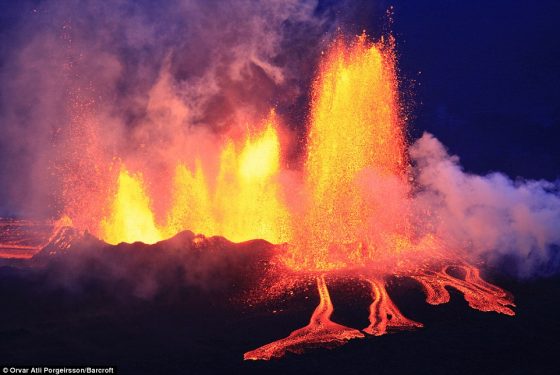 Iceland's biggest volcano has been rocked by the strongest earthquake since it last erupted in 2014.   With swarms of earthquakes occurring in the French Alps too, Europe is facing what could be one of the largest natural disasters in history.
Last week, the 6,591-foot tall Bardarbunga, a "powerful and versatile" volcano, was rattled by the four largest earthquakes since it last erupted in 2014.  The earthquakes, measuring in magnitudes of 3.9, 3.2, 4.7, and 4.7 on the Richter scale, struck the caldera region over several days last weekend. Another magnitude 4.1 earthquake hit the 200km long and 25km wide volcanic system earlier last week and several tremors struck in September.
Páll Einarsson, a volcanology expert at the University of Iceland, said the latest quakes are part of a series that have been "in progress for two years". Speaking exclusively to Daily Star Online, he said the volcano is "clearly preparing for its next eruption" within the next few years.
Fears are spiking even higher when considering the earthquake swarm that has been rocking the French Alps recently.
The 10,000-year-old volcano spewed out large volumes of sulfur dioxide during its last seven-month eruption which took place between August of 2014 and February of 2015. Although the eruption did not disrupt any flights, the emissions harshly impacted the air quality in Iceland, leading to health consequences across the country.
In spite of describing the volcanoes activity as "high", the Icelandic Met Office has yet to issue any warnings about the possibility of Bardarbunga's eruption. In fact, the warning code remains green; meaning the volcano is in a normal, non-eruptive state, according to the volcano monitor.
Seven years ago Iceland's massive Eyjafjallajökull volcano erupted, spewing a choking veil of ash across Europe. Residents worry as memories of the 2014 eruption and the flight chaos caused by the 2010 eruption of the Eyjafjallajökull volcano resurface.  The deadly volcanic dust wiped out skies and grounded 100,000 flights, resulting in the economy losing £4 billion.
Should an eruption of Bardarbunga take place, it's highly possible that there would be another even more drastic air travel restriction and poorer air quality.