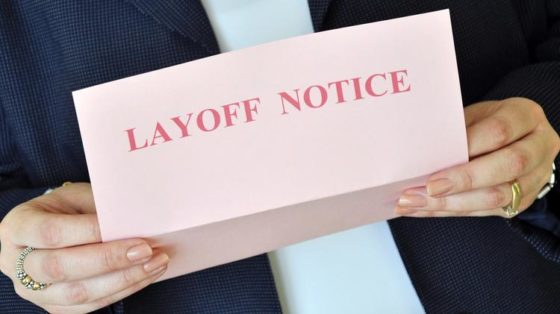 Up to 2% of HSBC bank's 237,685 employees could lose their jobs, a bank executive said Monday, as the bank flagged a worsening outlook for the global economy in its second-quarter results. The economy's woes are beginning to manifest in real job losses, and it's not likely to end here.
The retail apocalypse and subsequent job losses have somehow managed to escape scrutiny as people put on blinders to what's really going on in the economy. As we've said before, Main Street and Wall Street are two different things when it comes to how well folks are doing during this economic "expansion."
Finance director Ewen Stevenson in an interview said the job cuts, which will be targeted at senior roles, would shave up to 4% off HSBC's wage costs and would come from a mix of layoffs and attrition as people leave for other jobs. HSBC said severance costs this year would be $650 million to $700 million and save it that much annually going forward. –Market Watch
Also compounding the job losses was the agreement by former CEO John Flint to depart. HSBC said Flint had agreed to leave the CEO job after a mere 18 months, ending the 51-year old's three-decade career at the bank. Chairman Mark Tucker in an interview said Flint's departure doesn't signal any change in strategy, but that the board felt a leadership shift was needed to respond to "an increasingly complex and challenging global environment."
How to Prepare For An Economic Downturn: Go Debt-Free In 2019
Tucker also said on Monday the bank will remain focused on building out its business in China, which had been a priority for Flint and his predecessor, Stuart Gulliver. Asia-focused HSBC, already China's largest foreign bank, has long aspired to grow further in the country' retail and business banking market, according to Market Watch. However, the bank's relationship with China was tested last year when U.S. prosecutors drew upon internal bank documents to help build a fraud case against an executive at Chinese telecommunications company Huawei Technologies Co. Huawei and the executive deny any wrongdoing.
Stevenson added that parts of HSBC's business also have been under pressure from trade tensions between the United States and China. The trade was has curbed trade and investment for some customers, albeit to a limited degree, according to the bank, while Stevenson said a slowdown in global trade "will have an impact on the business."
It is never a bad time to prepare for an economic downturn or a job loss.
In Peter Shiff's book, Crash Proof 2.0: How to Profit From the Economic Collapse
, you can learn how to ensure you'll make it through the next crash and even come out on top financially. The economic and monetary disaster which seasoned prognosticator Peter Schiff predicted is no longer hypothetical-it is here today. And nobody understands what to do in this situation better than the man who saw it coming. For more than a decade, Schiff has not only observed the economy but also helped his clients restructure their portfolios to reflect his outlook. What he sees today is a nation facing an economic storm brought on by growing federal, personal, and corporate debt; too little savings; and a declining dollar. Crash Proof 2.0 picks up right where the first edition-a bestselling book that predicted the current market mayhem-left off. This timely guide takes into account the dramatic economic shifts that are reshaping the world and provides you with insights and information to navigate the dangerous terrain. Throughout the book, Schiff explains the factors that will affect your future financial stability and offers a specific three-step plan to battle the current economic downturn.