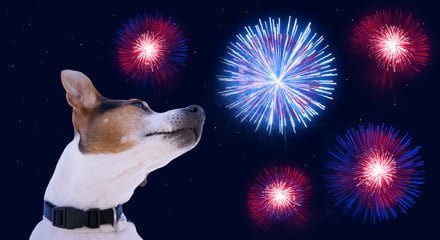 It's been said that dogs become so afraid of fireworks that they think they are going to die. If you're a dog owner, you have probably experienced attempting to coax your four-legged friend out from under your bed when things go boom. Some dogs are worse than others, but all fear the loud booms of the fireworks show, so here's how to keep them calm.
Studies by the American Society for the Prevention of Cruelty to Animals show more dogs run away in July than in any other month. Loud booms will cause a dog to bolt off and become afraid.
Veterinarian Marty Becker, who founded an initiative called Fear Free and works with State Farm to spread the word about preventing and alleviating anxiety in pets says dogs do not react well to fireworks. "A lot of times these dogs will self-mutilate. I've had dogs come in that have run through a plate-glass window. They think they're going to die, and when you think you're going to die, you do crazy things,'' she said.
Some dogs are more susceptible to loud booms than others. Border collies and chihuahuas are two breeds that should be watched more closely, especially if this is your first fireworks show with your dog. It's hard to say how they will react.
DO: watch for the telltale signs of a scared dog: shivering, shaking, panting, salivating, yawning, and trying to hide are some of those indications. Frightened dogs may also lick their lips repeatedly or get rigid and stiff. Some dogs will cling to their owner or defecate on themselves out of fear.
DON'T: take them with you to a fireworks display.  Dogs will feel much more comfortable in their own environment.  Close the blinds of the house and the windows to minimize the sounds outside.
DO: play some classical or reggae music while the fireworks are going on.  This type of music can block out some of the sounds that make your dog fearful.
DON'T: rely on desensitizing.  This process can take months or even years, and I've found that it just doesn't work with my border collie.  She hides under the bed or runs off if she's outside.
DO: try to coax the dog out from under the bed with a toy rather than grabbing them.  When they get scared, they can bite.
DO: try throwing a ball for your dog or going for a very long walk to tire them out early in the day.  If they are tired enough, they just might sleep through the noise.
If your dog is one that's sensitive to the loud booms, you may just have to make the decision to watch fireworks from home.  I have to do this every year just to make sure my dog doesn't hurt herself because she's just one of those dogs who is more"gun shy" than average. I've personally had some success with a few of these tips. My dog responds well to the music and I have found that giving her a lot of exercise during the day works well too. It's not perfect, and she still shakes uncontrollably, but if I'm there, she does a lot better than if I leave her in the house alone.
Keep your dog safe this holiday! They are like family to some of us.