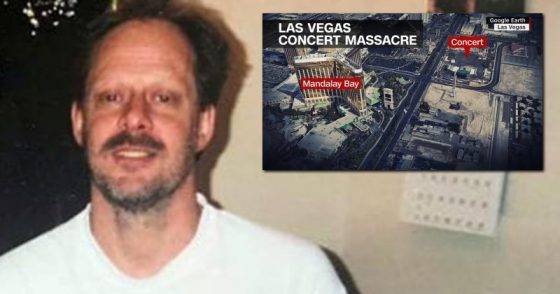 As the narrative quickly formed into one of a "lone wolf" old man who somehow managed to cart 23 rifles up to the 32nd floor of a Las Vegas casino hotel room without nary a photo or security image of him doing so, many balked. But one Australian man knows what he saw, and he saw "multiple gunmen."
An Australian man who was staying in the room next to the shooter in the Mandalay Bay has confirmed he witnessed multiple gunmen involved in the Las Vegas attack. "There were multiple people dead and multiple shooters. I was just hiding waiting for police to come get us. I got outside safely and was hiding in bushes," Brian Hodge told Australia's Courier-Mail. Hodge, who was staying in room 32134, right next door to Stephen Paddock in room 32135, also provided important information when he revealed that a security guard was killed by police. "My floor is a crime scene. They killed a security guard on my floor."
Witness Wendy Miller, also from Australia, said she too, saw a security guard being chased. She was staying at the Luxor Hotel (next to the Mandalay Bay) with her husband. But they had been at a bar in the Mandalay Bay when she saw what she described as a "man of interest" run by. "We managed to make our way back to our room…" she told The Courier-Mail. "We are in lockdown. Our door is deadlocked and a chair against the door." Miller said she saw the man sprint through the hotel after coming off an escalator from the Mandalay Bay. "The man that they [security] were chasing was wearing a security jacket like them," she said.
Many eyewitness reports that don't match the carefully crafted narrative that is being regurgitated and that we are expected to believe are also being silenced.
Information is being heavily censored on YouTube. Why would police shoot or even chase a security guard? For likely the same reasons that YouTube keeps taking down video evidence of a shooter firing from the fourth floor, substantially and obviously lower than the 32nd floor. The narrative is falling apart.
A screenshot, taken by SHTFPlan, showing one of
the many fourth-floor shooter videos being removed from YouTube.
Watch the video below while you can, as it's hard to say how long it will be available.
Many reports and eyewitness accounts of people saying they saw more than one shooter are being removed from websites like YouTube. When censorship begins, we know there's something out there that we aren't supposed to see.  We are supposed to believe the media and obey the government because of this tragedy. "Never let a crisis go to waste," said Rahm Emmanuel, Barack Obama's senior advisor.
The media and the government are definitely covering up some of the obvious information.  It doesn't take a genius to see that the story we are being told doesn't fit.  And the more they the powers that be try to explain, the less plausible it all sounds.