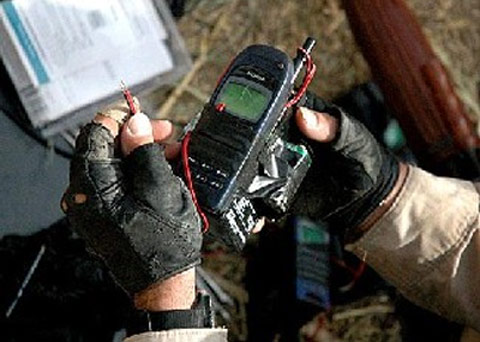 As communications become increasingly important to online life, and political expression, Homeland Security and law enforcement wield powerful new tools to regulate the signal and control the masses, particularly during crises.
Lawsuits by the Electronic Privacy Information Center have hinged around disclosure of a secret plan that gives the Department of Homeland Security (DHS) the ability to cut cell service and black out communications across entire cities, or on specific areas.
How extensively the plan has been developed remains unknown, as legal action so far has failed to declassify the digital tool of mass control.
via Ars Technica:
The Supreme Court is setting aside a petition from the Electronic Privacy Information Center that demanded the Department of Homeland Security release the US government's secret plan to shutter mobile phone service during disasters.

… ruling that the DHS did not have to divulge the full contents of Standard Operating Procedure 303. That court held that… disclosure would "endanger" public safety.

Under the direction of the so-called National Security Telecommunications Advisory Committee, SOP 303 allows for the shutting down of wireless networks "within a localized area, such as a tunnel or bridge, and within an entire metropolitan area." … Local governments, however, have the power to shutter wireless service regardless of SOP 303.
Like all great emergency powers, this high tech control plan has already been abused. Homeland Security used the kill switch to shut off service to cell phones in order to stifle a San Francisco protest:
The privacy group had demanded the document in 2011 following the shuttering of cell service in the San Francisco Bay Area subway system to quell a protest.

… a "unified voluntary process for the orderly shut-down and restoration of wireless services during critical emergencies such as the threat of radio-activated improvised explosive devices." (Here is a copy of a heavily redacted version (PDF) of the protocol that EPIC's lawsuit produced.)
Like other non-lethal weapons brought on the scene of post-9/11 crowd control situations, DHS' kill switch features the patent ability to dial down to a specific location, or broaden the cellular interruption devices to a city-wide area.
These are enormous powers that will be used during crises of all types – and already it poses a danger to the civil rights that expressly protect the right to assemble, give redress of grievances and speak freely – including across cell phone signals.
Interruption and black outs could impose directly on these rights, and be used in the name of prevent riots, terror attacks or shades of martial law during emergency situations.
As Joshua Krause argues at Ready Nutrition, there are alternate ways to communicate that could be effective during an emergency where the government institutes a denial of access attack on the population's cell service.
At first glace, there is little potential for these devices when the grid goes down… However, don't be too quick to scoff at the prepping potential of these devices. It's fairly easy to create a local wifi network (aka ad hoc network) between computers that are within range of each other. This would allow people living on the same street or in the same apartment building to talk to each other, provided they can generate their own electricity. The better solution would be to create a local network with cell phones that isn't reliant on any infrastructure…

If the grid is down long enough, eventually some enterprising citizens would start to provide courier services. Whether it's by foot or by bicycle, they will fill an important niche that other items on this list can't provide, and that is a secure form of communication. If you had to send a message to someone who lives out of the range of your radio or wifi network, and you needed that message to remain a secret, writing that message down and sending someone out to deliver it by hand would be the only way to do it.
It is possible to use wifi and cell phones – even during a grid down scenario – to communicate through mesh networks (using modest amounts of alternate power). Walkie talkies, CB and Ham radio systems will also be important during emergencies, as will old-fashioned courier services using a network of trusted messengers and whatever the quickest form of available transportation is during the situation.
Don't forget to prepare back-up communications gear in a Faraday cage so that these options will remain viable in an EMP event as well.
Read more:
What Will Be Best Form of Communication If the Grid Goes Down?
How to Use a [BUSTED] Cell Phone to Meet 5 Basic Survival Needs
Cyber Attack May Be To Blame For Deadly Amtrak Crash: "It's Unclear Whether the Speed Was Increased Manually"
Backdoors… for Everything: "Citizens Should Have No Secrets Gov't Can't Access"
Well-Connected Insiders Plead for Action: "An EMP Could Change the Course of Global Civilization By 2030″