For more evidence of the current deflationary trend look no further than the real estate market.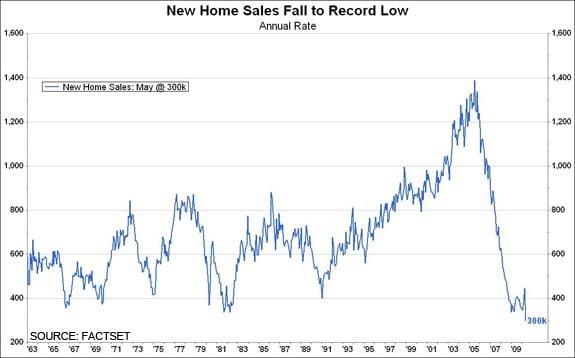 If you take a quick look at the chart above and still think a housing recovery is upon us, then the mainstream media has detonated a Weapon of Mass Distraction in your brain and you can't be saved.
Now that the $8000 home buyer tax credit has disappeared, guess what happens?
That's right, the housing market will continue on its decline trajectory.
Homes are a debt based asset, and the easy creation of money from 2001 to 2006 led to massive price increases – we're talking 50% to 100% asset value rise in an asset that remained fairly price stable for about 100 years.
The system is now trying to correct this extreme upward price swing. In the last couple of years the government tried to counteract the corrective deflationary pressures in an attempt to "stabilize" housing prices at overblown 2007 levels by making mortgages inexpensive, providing tax credits and loan modifications.
All of these billion dollar programs have failed. FAILED.
In April, the Federal government told us that home sales were up 27%. We were told this was a "grand slam" for the housing recovery.
We warned you that this was a complete fabrication driven by the aforementioned policies and that we could expect a return to decreasing home sales and prices this summer.
Today we learn that the month of May was a strike out for home sales:
The U.S. housing market is in crisis.

A day after a disappointing read on the market for existing homes, the government said Wednesday that sales of new homes fell to their lowest level on record last month, a potentially crushing blow for an economy that is still looking for its footing.

The Commerce Department said new home Sales fell by a stunning 32.7% in May, to a seasonally adjusted rate of 300,000. Sales were expected to be off sharply as a government program to prop up the market expired, but the results were far worse than even the most pessimistic outlooks.
Housing is nowhere near recovery. We've compared our housing market to Japan's 1990 real estate bubble pop in prior posts. From the top to the bottom of their bust, Japanese real estate lost 75% adjusted for inflation. While we may not exactly duplicate Japan, it is definitely possible. It's happened in Japan, it happened in the Great Depression, and we can fully expect another significant leg down going forward.
Do not be surprised if housing prices collapse another 20% to 40% from here. The pendulum is swinging from one extreme to the other and their will be violent volatility along the way.
Expect home sales to remain depressed, in real terms, for the next decade, perhaps beyond.
Hat tip Patriot One