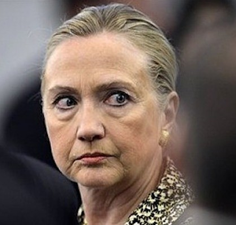 We're talking about compulsive, psychopathic behavior here.
While so much attention is directed towards presidential candidate Hillary Clinton's classified email scandal from her days as Secretary of State, it is worth dredging up the career-long history that the former First Lady and Arkansas lawyer has with losing, withholding or misplacing important records pertaining to scandals that she, her husband and affiliates have been involved in.
The NY Post discussed the conspicuous document controversies that surrounded the Clinton's time at the White House:
While the State Department's own internal probe found former Secretary Hillary Clinton violated federal recordkeeping laws, it's not the first time she and her top aides shielded her email from public disclosure while serving in a government position.

As first lady, Hillary was embroiled in another scheme to bury sensitive White House emails, known internally as "Project X."

In 1999, as investigators looked into Whitewater, Travelgate, Filegate and other scandals involving the then-first lady, it was discovered that more than 1 million subpoenaed emails were mysteriously "lost" due to a "glitch" in a West Wing computer server.

[…]

During the Project X email scandal, career White House staffers and contractors found that someone close to the first lady had basically turned off the White House's automated email archiving system. They fingered White House "special assistant" Laura Crabtree Callahan, who was overseeing the computer contractors despite obtaining computer science degrees from diploma mills.
The glitch essentially shielded over a million sensitive documents from the probe that Special Investigator Kenneth Starr was conducting from 1996-1998 on the personal and professional activities of President Clinton (a la Monica Lewinsky).
The emails were never recovered or forced into the public, and any light they may have shed on misconduct remains undocumented.
There are, of course, also allegations that Hillary Clinton and/or her staff removed relevant files on Vince Foster after the suspicious "suicide" of the top Rose Law attorney who had worked intimately with the First Lady throughout their careers and who had known Bill Clinton since childhood.
Ben Shapiro at Breitbart rounded up a list of Hillary's improprieties with documented evidence dating all the way back to her early career as a lawyer during the Watergate Hearings in the Nixon Administration where she was accused of writing fraudulent documents and removing public documents.
There were missing documents during Travelgate and Whitewater scandals, and Hillary was investigated and fingerprinted at the time, after some of the previously missing files were found with Hillary's fingerprints on them.
Hillary's Missing Whitewater Documents. In 1996, a special Senate Whitewater committee released a report from the FBI demonstrating that documents sought in the Whitewater investigation had been found in the personal Clinton quarters of the White House. The First Lady's fingerprints were on them. The documents had gone mysteriously missing for two years.

Mark Fabiani, special White House counsel, immediately stated that there was no problem, according to the Times: "He added that she had testified under oath that she had nothing to do with the documents during the two years they were missing and did not know how they ended up in the family quarters." Hillary remains the only First Lady in American history to be fingerprinted by the FBI. Those weren't the only missing Whitewater documents later found in the Clinton White House.
As the system at large prepares to rationalize away the actions of Hillary Clinton in regard to her ongoing saga with the email server scandal – because she won't be held accountable, but instead placed in the highest office of the country – it is looking away from the serial actions of this woman.
Her M.O. has centered around questionable and unethical behavior with sensitive documentation and evidence.
There is a serious issue here… made all the more pressing by the fact that the Justice Department will is unable or unwilling to hold the future 45th president accountable.
Hillary has literally laughed off the possibility of her being hauled off in handcuffs over emails:
"Me in handcuffs will never happen," Hillary told Matt Lauer.
She believes that she is above the law, and there is reason to think that she will get away with it and be proven right.
Read more:
Hillary Continues to Lie About Emails "Even As MSNBC Turns On Her"
Davos Insider Vows Trump Defeat: "It Doesn't Matter Who the GOP Puts Up, Hillary Will Win"
Emails Reveal Hillary Literally Read Up On "How to Delete Something So It Stays Deleted"
Will Hillary Go Down Like Nixon? Watergate Journalist: "What's On Emails? Probably Not Pretty"
Bombshell Report: Crooked Hillary Took $100 Million From Middle East Regimes: "Massive Conflicts Of Interest"