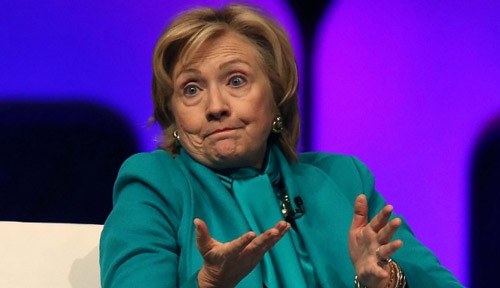 Hillary Clinton's delusions continue. It's been almost a year since the election, and now Hillary's blaming married women who voted for Donald Trump for her loss to the president back in November.
Still unwilling to take any responsibility for her loss to Donald Trump, Hillary continues to play the blame game.  So far, she's blamed everyone from her most trusted advisor, Huma Abedin, to the infamous socialist and fellow democrat Bernie Sanders, for the disastrous campaign and ridiculous ideas she championed last year. But she doesn't stop there anymore. Now it's the fault of married women who voted for Donald Trump.
According to the Daily Wire, the quintessential modern feminist Clinton says women were too scared to stand up to their husbands, boyfriends, and fathers, who told them to vote Republican, and since, clearly, women have no agency or ability to think for themselves, they listened.  Of course, that's according to Hillary. But she blamed socialist women as well. Clinton made the outrageous claims in an interview with NPR, where she also blamed the so-called "Bernie Bros" for bullying Democratic women into avoiding the more moderate Clinton in favor of the socialist, Bernie Sanders.
"You yourself in the book acknowledge that a good number of young women didn't vote for you, which is presumably not a sexist choice. They just weren't inspired by your message," NPR's Rachel Martin said during an interview with Clinton, out to promote her litany of excuses…er…recently released book, What Happened. "I think it's a lot more complicated than that," Clinton answered. "I did win the women's vote. I didn't win the vote of white women, but I got more white women votes than Barack Obama did," she said.

"Women will have no empathy for you because they will be under tremendous pressure — and I'm talking principally about white women — they will be under tremendous pressure from fathers, and husbands, and boyfriends and male employers, not to vote for 'the girl,'" she said. –Daily Wire
But Clinton also said that even though women liked and respected her (an observation American women might disagree with generally) they were too afraid to stand up to the "oppressive Patriarchial hand" that often "forces" them to hide their allegiance to womankind. Clinton also tried pretty hard to convince NPR that she is taking the blame for her loss, but no one is buying this snake oil anymore:
"I take ultimate responsibility for the loss," Clinton said. "I was the candidate. I was the person whose name was on the ballot. And I'll never get over that."
And even though she lost to one of the most hated candidates of all time, Hillary Clinton is refusing to go away. "I'm not going anywhere. I have the experience, I have the insight, I have the scars that I think give me not only the right but the responsibility to speak out," Clinton said.