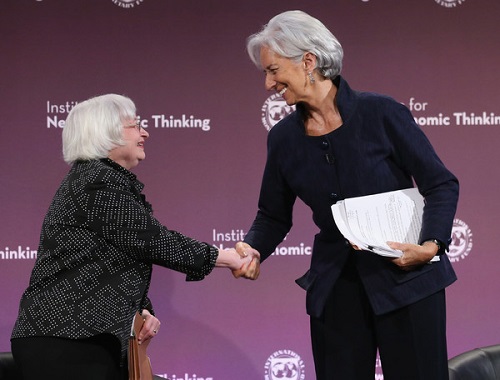 This article was written by Michael Snyder and originally published at his Economic Collapse blog.
Editor's Comment: After all the discussion – for years now – about what this will mean for the economy, one just hopes they know what they're doing. The mainstream economy has been seriously drained and deprive of life blood for many years now; the jobs of middle class and working class Americans have been threatened or destroyed. 8 long years of zero interest rates and quantitative easing has distorted the entire landscape, and impacted business, while the banks at the top of the pyramid have swelling assets, easy cash – and now a supercycle of debt that may come due on entities of all kinds that are unable to repay.
This is dangerous business, attempting to apply monetary policy from the top down, and it could be something like the throes of a junkie coming to terms with the end of his supply. It has enlarged the state, and deprived the small business and independent economy; let's just hope things turn around for the better. But it is shaky medicine, and it appears to be an issue of damned if you do, damned if you don't.
After Raising Rates Once During The Obama Years, The Fed Promises Constant Rate Hikes During The Trump Era
by Michael Snyder
Now that Donald Trump has won the election, the Federal Reserve has decided now would be a great time to start raising interest rates and slowing down the economy.  Over the past several decades, the U.S. economy has always slowed down whenever interest rates have been raised significantly, and on Wednesday the Federal Open Market Committee unanimously voted to raise rates by a quarter point.  Stocks immediately started falling, and by the end of the session it was their worst day since October 11th.
The funny thing is that the Federal Reserve could have been raising rates all throughout 2016, but they held off because they didn't want to hurt Hillary Clinton's chances of winning the election.
And during Barack Obama's eight years, there has only been one rate increase the entire time up until this point.
But now that Donald Trump is headed for the White House, the Federal Reserve has decided that now would be a wonderful time to raise interest rates.  In addition to the rate hike on Wednesday, the Fed also announced that it is anticipating that rates will be raised three more times each year through the end of 2019…
Fed policymakers are also forecasting three rate increases in 2017, up from two in September, and maintained their projection of three hikes each in 2018 and 2019, according to median estimates. They predict the fed funds rate will be 1.4% at the end of 2017, 2.1% at the end of 2018 and 2.9% at the end of 2019, up from forecasts of 1.1%, 1.9% and 2.6%, respectively, in September. Its long-run rate is expected to be 3%, up slightly from 2.9% previously. The Fed reiterated rate increases will be "gradual."
So Barack Obama got to enjoy the benefit of having interest rates slammed to the floor throughout his presidency, and now Donald Trump is going to have to fight against the economic drag that constant interest rate hikes will cause.
How is that fair?
As rates rise, ordinary Americans are going to find that mortgage payments are going to go up, car payments are going to go up and credit card bills are going to become much more painful.  The following comes from CNN…
Higher interest rates affect millions of Americans, especially if you have a credit card or savings account, or want to buy a home or a car. American savers have earned next to nothing at the bank for years. Now they could be a step closer to earning a little more interest on savings account deposits, even though one rate hike won't change things overnight.

Rates on car loans and mortgages are also likely to be affected. Those are much more closely tied to the interest on a 10-year U.S. Treasury bond, which has risen rapidly since the election. With a Fed hike coming at a time when interest on the 10-year note is also rising, that won't help borrowers.
The higher interest rates go, the more painful it will be for the economy.
If you recall, rising rates helped precipitate the financial crisis of 2008.  When interest rates rose it slammed people with adjustable rate mortgages, and suddenly Americans could not afford to buy homes at the same pace they were before.  We have already been watching the early stages of another housing crash start to erupt all over the nation, and rising rates will certainly not help matters.
But why does the Federal Reserve set our interest rates anyway?
We are supposed to be a free market capitalist economy.  So why not let the free market set interest rates?
Many Americans are expecting an economic miracle out of Trump, but the truth is that the Federal Reserve has far more power over the economy than anyone else does.  Trump can try to reduce taxes and tinker with regulations, but the Fed could end up destroying his entire economic program by constantly raising interest rates.
Of course we don't actually need economic central planners.  The greatest era for economic growth in all of U.S. history came when there was no central bank, and in my article entitled "Why Donald Trump Must Shut Down The Federal Reserve And Start Issuing Debt-Free Money" I explained that Donald Trump must completely overhaul how our system works if he wants any chance of making the U.S. economy great again.
One way that Trump can start exerting influence over the Fed is by nominating the right people to the Federal Open Market Committee.  According to CNN, it looks like Trump will have the opportunity to appoint four people to that committee within his first 18 months…
Two spots on the Fed's committee are currently open for Trump to nominate. Looking ahead, Fed Chair Janet Yellen's term ends in January 2018, while Vice Chair Stanley Fischer is up for re-nomination in June 2018.

Within the first 18 months of his presidency, Trump could reappoint four of the 12 people on the Fed's powerful committee — an unusual amount of influence for any president.
By endlessly manipulating the economy, the Fed has played a major role in creating economic booms and busts.  Since the Fed was created in 1913, there have been 18 distinct recessions or depressions, and now the Fed is setting the stage for another one.
And anyone that tries to claim that the Fed is not political is only fooling themselves.  Everyone knew that they were not going to raise rates during the months leading up to the election, and it was quite clear that this was going to benefit Hillary Clinton.
But now that Donald Trump has won the election, the Fed all of a sudden has decided that the time is perfect to begin a program of consistently raising rates.
If I was Donald Trump, I would be looking to shut down the Federal Reserve as quickly as I could.  The essential functions that the Fed performs could be performed by the Treasury Department, and we would be much better off if the free market determined interest rates instead of some bureaucrats.
Unfortunately, most Americans have come to accept that it is "normal" to have a bunch of unelected, unaccountable central planners running our economic system, and so it is unlikely that we will see any major changes before our economy plunges into yet another Fed-created crisis.
---

Michael T. Snyder is a graduate of the University of Florida law school and he worked as an attorney in the heart of Washington D.C. for a number of years.
Today, Michael is best known for his work as the publisher of The Economic Collapse Blog and The American Dream. 
If you want to know what is coming and what you can do to prepare, read his latest book [amazon text=Get Prepared Now!: Why A Great Crisis Is Coming & How You Can Survive It&asin=150522599X].