This article was originally published by Joshua Krause at ReadyNutrition.com .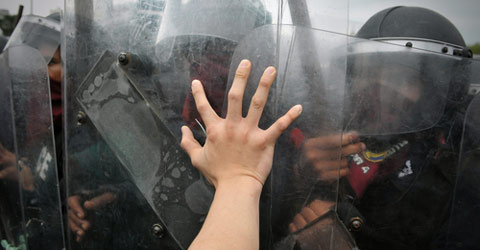 It seems like civil unrest has become an increasingly common occurrence in America over the past few years. Since the election we've seen a lot of protests turn violent, and in the years preceding the election, just about any controversial police shooting could spark a riot. As these incidents become commonplace, more people are becoming aware of just how tumultuous our nation really is. They want to know how they can protect themselves from civil unrest or avoid riots in the first place, especially if they live in urban areas.
Coincidentally, I have firsthand experience on this subject. Though I have thankfully never been in a riot, I know exactly what it looks like on the streets in the hours before a riot kicks off. I was visiting Berkeley, California on December 6th, 2014, just before a massive protest for the deaths of Eric Garner and Michael Brown turned violent.
I left the city a couple of hours before things got crazy, though not because I knew what was coming. Though I had heard earlier in the day that there was going to be a protest, I didn't think that anything serious was going to happen, because protests are a pretty common occurrence in Berkeley. This may sound crazy now, but at the time there was no reason to think that there was going to be a full-blown riot.
Always Be On the Lookout for Warning Signs
Though I was completely ignorant of what was about to go down, in hindsight there were plenty of red flags. I noticed them as I was walking through the city in the late afternoon, on my way to catch a BART train home.
For starters, there was a massive police presence everywhere I looked. There were more cops walking or driving around than I had ever seen in the city before before. That may sound like an obvious sign, but it was what the cops were doing and what kinds of equipment they had on hand that was significant. You could hear helicopters overhead, and there were several large nondescript buses parked near where the protest was about to begin. They were kind of like school buses, but painted white. In other words, the kind of buses that are often used to transport prisoners. They were clearly getting ready to detain a lot of people.
As for the behavior of the police, there was one thing I saw that stands out. I distinctly remember seeing two police officers tell a homeless man to leave the area. That's common in some cities, but not Berkeley. There are homeless people everywhere and I've never seen the police do that. Unless the homeless are being unruly and someone calls the cops (which most people rarely do), the police seem to leave the homeless alone in Berkeley.
In hindsight it makes a lot of sense. After they close, the homeless often sleep in front of the shops where the riot was about to take place. And when the cops interacted with this guy, they weren't being aggressive. The interaction looked pretty courteous. They weren't removing someone who was causing a problem. They were removing him for his own safety.
And perhaps the most interesting warning sign I witnessed, has to do with what many of the businesses in the area did to prepare themselves for the protest. I saw dozens of shops close early. Their owners and employees had boarded up windows and doors, as if they were getting ready for a hurricane to rip through the city.
The reason why that's so intriguing, is that before 2014 I don't think Berkeley had seen a major riot in decades. I'm really not sure how these businesses knew that there was going to be unrest in the streets. Remember, Berkeley is practically the protest capital of the world. It seems like there is a protest going on in that city every week, and they rarely turn violent.  So how did they know that this time was going to be different? My only guess is that the police must have warned them ahead of time. Without that kind of advice, they would have been as much in dark as I was.
So keep these warning signs in mind the next time you visit a city. Don't be like me. I just happened to leave as the city was gearing up for civil unrest. I had no idea of what was going on, and basically avoided the riot by dumb luck. When you see the police and the locals getting ready for a street battle, take note and get the hell out of there.
This article was originally published by Joshua Krause at Tess Pennington's Ready Nutrition Website.
Joshua Krause was born and raised in the Bay Area. He is a writer and researcher focused on principles of self-sufficiency and liberty at Ready Nutrition. You can follow Joshua's work at our Facebook page.
---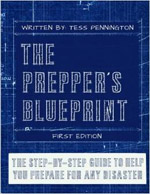 Tess Pennington is the author of The Prepper's Blueprint, a comprehensive guide that uses real-life scenarios to help you prepare for any disaster. Because a crisis rarely stops with a triggering event the aftermath can spiral, having the capacity to cripple our normal ways of life. The well-rounded, multi-layered approach outlined in the Blueprint helps you make sense of a wide array of preparedness concepts through easily digestible action items and supply lists.
Tess is also the author of the highly rated Prepper's Cookbook, which helps you to create a plan for stocking, organizing and maintaining a proper emergency food supply and includes over 300 recipes for nutritious, delicious, life-saving meals. 
Visit her web site at ReadyNutrition.com for an extensive compilation of free information on preparedness, homesteading, and healthy living.
Related:
The Prepper's Blueprint: A Step-By-Step Guide To Prepare For Any Disaster
CBRN Gear For Riot Gases, Chemical Attacks and Nuclear Emergencies
10 Selfless Acts Amid Terrible Tragedies That Will Blow Your Mind: "We're Capable Of Immeasurable Acts Of Compassion And Altruism"
These Are the Diseases That Will Run Rampant When the SHTF: "People Like To Think The Most Common Cause Of Death Would Be At The Hands Of Other People"