This article was contributed by James Davis of Future Money Trends.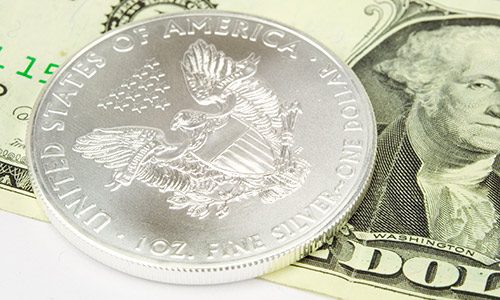 They attribute the August 15th, 1971 decision to the presidential criminal, Richard Nixon, but if you know one thing about old Richard, it is that he didn't do anything without first GETTING THE BLESSING of Mr. Henry Kissinger.
In the 20th century, there were very few politicians whose actions led to wilder UNINTENDED CONSEQUENCES than Kissinger's. He is in charge of overseeing the Napalm horrors and crimes committed in Vietnam, in addition to a LONG LIST of other war crimes, going back to his first days in the Kennedy Administration.
JFK was so suspicious of Kissinger's agenda and sinister plots that he wanted him PERMANENTLY REMOVED from positions of power; truly, a high degree of intellectual power, coupled with evil, is a LETHAL COMBINATION, as exhibited by Kissinger.
By the late 1960s, Western European countries were recovering from WW2 and were becoming a DIRECT THREAT to United States' currency and credit hegemony. Gold reserves in the United States PLUMMETED in the 1950s and 1960s; Europe had a HIGH CONCENTRATION of gold, so Kissinger became convinced that to keep control, gold had to become irrelevant.
The market called this WAR CRIMINAL'S bluff and gold rose 2,400% in one decade (1971-1980)!
If you're reading this, I can still CALL YOUR BLUFF, Henry, whether it's you, one your globalist associates, or any DEEP STATE PUPPET!
You wanted to weaken gold, but as always with your schemes, YOU FAILED!
Gold is going to hit you RIGHT IN THE FACE within days, surpassing $2,000/ounce and silver is FLOATING ON A CLOUD right now!
Mining stocks are OUTPERFORMING THE NASDAQ!
This is nuts on all levels, and I'm grinning from EAR TO EAR, thinking about Henry and Richard, assuming that they stopped Europe from getting stronger by throwing the DOLLAR INTO THE GARBAGE CAN!
Henry Kissinger – thank you for the GREATEST BULL MARKET in precious metals history!
When I closed my eyes on Monday, silver's spot price was still BELOW $20/ounce. When I awoke, it was INCHING UP, even sitting for a while on $19.99, before taking that RESISTANCE LEVEL and cutting through it like a SEMI TRUCK through a plaster wall.
Man, AM I BULLISH HERE!
Imagine the Robinhood army of day-traders and the Cavalry of MOMENTUM-CHASING algorithms piling into silver, a market that is 1,000 times smaller than the TECH GIANTS that they've been drooling over and sending to STUPID VALUATIONS for the past few months!
I get excited just thinking about how much MONEY WILL FLOOD our little niche of junior mining shares and I start dancing in the living room!
The general trading herd is currently fixated on stocks that will NEVER MAKE MONEY. When they realize the puck has moved, CAN YOU IMAGINE what's going to occur?
Houston, we have lift-off!