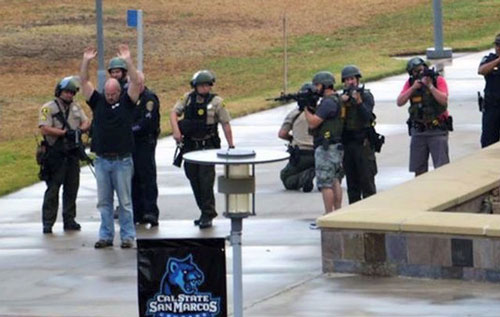 These days you never know what could be used as a deadly weapon of mass destruction requiring a militarized SWAT response.
In San Marcos, California, where students and staff members are always looking out for potential domestic terrorists, a call to 9-1-1 prompted a full university lock-down and brought elite members of the police department out in force.
The incident began when someone called police to report a gunman on campus carrying an assault rifle.
It turns out, it was only an umbrella. Late Wednesday, 10News spoke with Bill Craig, who has been a staff member at the university for 17 years. He was walking with his umbrella on campus that morning because of the rain.

Little did he know that by the time he got back to his office, his umbrella would have been mistaken for a rifle and lead to a campus-wide lockdown. Craig was held at gunpoint by sheriff's deputies during the lockdown.

"I guess you always think that when someone's pointing a gun at you, you're really going to freak out but I think I was just more focused on doing exactly what the officer said," he told 10News.

Craig was the person – reported as being suspicious – they had been looking for. The person was described as a white male, wearing a black shirt and jeans and walking across campus carrying a rifle.

He says he knew it was him the second the alert went out.

"I was certain," said Craig. "It could have certainly been someone else. I mean, I'm not the only tall, bald guy here, but it fit me to a tee."
You never know what could pass as an assault rifle given the hyper-sensitivity surrounding the ownership and possession of firearms.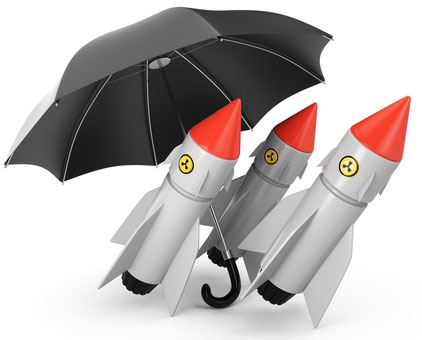 Earlier this a month a man was shot and killed by police at a Walmart in Beavercreek, Ohio after a sharp-eyed shopper called in to report he was carrying around a loaded assault rifle. It turned out to be a BB gun that 22-year old John Crawford had picked up in the sporting goods section of the store.
In another BB gun incident in Houston, a Department of Homeland Security professional mistook an Airsoft rifle for an AR-15, prompting a fully mobilized deployment of the local SWAT team.
But to police, water pistols may be even more dangerous than BB guns or umbrellas. New York resident John Mayer was raided by police after his young son threatened to use a water gun and other children's armaments against bullies who were terrorizing his friends. Police quickly responded by not only revoking Mayer's pistol license, but confiscating his firearms, even though the guns were locked and totally inaccessible to his child.
This is only the beginning. As police departments around the country continue to acquire military grade equipment like mine-resistant vehicles, long rifles, night vision, and scores of other supplies, we can expect a further militarization of all federal, state and local employees.
(See what you're local police department has been stockpiling)
Soon, they might even start arming IRS agents or Post Office employees.
Oh, wait. Too late… They're already doing that.
But, God forbid an American citizen tries to purchase some body armor for protection. Soon, that will be a crime as well, and perhaps the next SWAT raid will occur as a result of someone wearing a bulky jacket or vest that resembles body armor.
This is America, 2014.