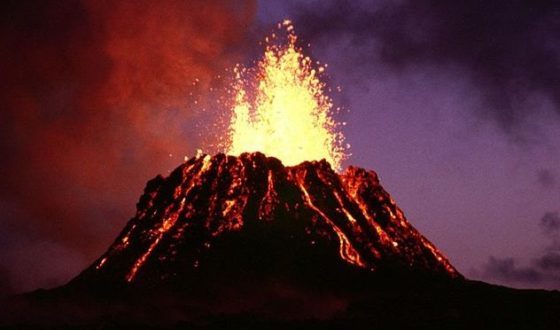 As lava continues to spew over 200 feet into the air, homes in Kilauea's path continue to be destroyed.  The number of homes destroyed by lava shooting out of openings in the ground created by Hawaii's Kilauea volcano has climbed to at least 26, and five other structures have also been destroyed.
Authorities have told CBS Honolulu affiliate KGMB-TV that Hawaiian officials say ten fissures have opened since Thursday and some of the more than 1,700 people who evacuated prepared for the possibility they may not be able to return for quite some time. "I have no idea how soon we can get back," said Todd Corrigan, who left his home in Leilani Estates with his wife Friday as lava burst through the ground three or four blocks from their home. They spent the night on the beach in their car and began looking for a vacation rental to stay in for a longer term.
On Saturday, Amber Makuakane said she received alerts from her security system that motion sensors throughout the house had been triggered. She later confirmed that lava had covered her property. Makuakane, who 37 years-old, a teacher, and single mother of two, said her three-bedroom house in Leilani Estates was destroyed by the lava. Her home was across from one of the fissures that opened Friday, when "there was some steam rising from all parts of the yard, but everything looked fine," Makuakane said.
Leilani Estates, where Corrigan, Mukuakane, and their families resided is a subdivision in the mostly rural district of Puna and is still at the greatest risk. But some residents have returned to the area affected by that lava flows.
According to CBS News, Hawaii County civil defense administrator Talmadge Magno said at a Sunday news conference that some residents did indeed go back to the area. He also stressed that anyone returning should wear a mask to reduce chances of breathing in any contaminants. Officials also warned about wearing the right masks, with a warning posted online.
Magno told CBS News correspondent Carter Evans it's not known how long the volcanic activity will continue. "That's the sad part about it," Magno told Evans. "It could be happening for a long time, or on the other hand, like I said, mysteriously it could just end," he said. "Unfortunately we are up to 26 residences taken out; There's no sign of things slowing down," Magno said earlier Sunday.
Hundreds of small earthquakes continued to rumble through the area Saturday, one day after a magnitude-6.9 temblor hit. That earthquake was the largest one to hit Hawaii in more than 40 years. Magma moving through Kilauea set off the earthquakes, said geologists, who warned of aftershocks.