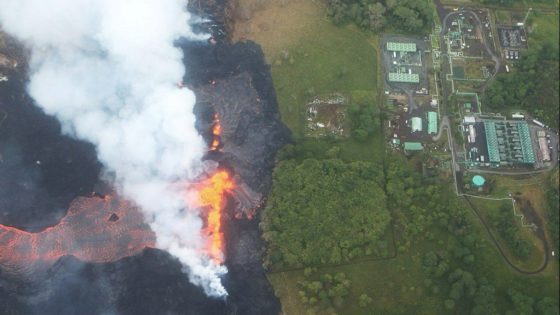 The Puna Geothermal Venture in Hawaii is secure, and if lava did encroach on it, the danger of a toxic gas release is "very low," authorities said.  Not only that, but the power plant was taken offline when the Kilaeau volcano began erupting earlier this month, so blackouts are not expected.
Nonetheless, the lava is threatening to destroy the power plant. Hawaii Electric Light officials confirmed that if the lava does take out the plant, no blackouts should occur.  Older, diesel-powered plants have been brought online to provide electricity in the wake of the erupting volcano, Jim Kelly, a spokesman for HEL, told ABC News.
On Tuesday, officials said that efforts to plug the Puna Geothermal Venture's plant's 11 wells were successful, but that no test for what could occur if lava made contact with the wells. But as of right now, the wells are stable.
Ten wells were "quenched," which cools them with enough cold water to counter the pressure of volcanic steam coming from below, said Hawaii Governor David Ige. The last well was plugged with mud because it had remained hot despite the infusion of water. Metal plugs in the wells, which run as deep as 8,000 feet underground, are an additional stopgap measure. "All wells are stable at this point," Ige said.
"The probability of anything happening if the lava enters the well field is very, very low," he added. The public "should feel pretty comfortable that there should be no untoward events from Puna Geothermal Venture. Assuming that the lava doesn't change its pattern or its flow. Each time it changes we have to re-evaluate and look at other issues." Hawaii Emergency Management Agency Administrator Tom Travis said: "the well field is as safe as we can get the well field."
The lava has already destroyed a warehouse near the power plant facility. "Fissures near Puna Geothermal Venture are active and producing lava slowly flowing onto the property," County of Hawaii Civil Defense said in a statement. "This activity has destroyed the former Hawaii Geothermal Project site," it said, referring to the warehouse.
About 3 miles to the east of the plant on the coast, noxious clouds of acid fumes, along with steam and fine glass-like particles billowed into the sky as lava poured into the ocean from two lava flows.