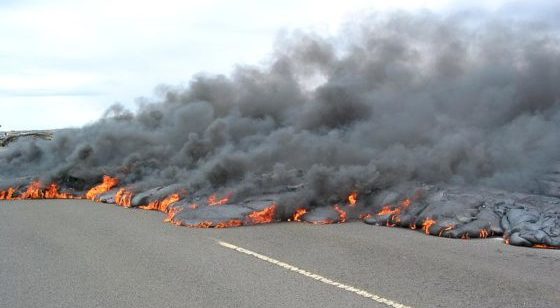 The Hawaiian volcano, Kilauea, is still erupting and lava is now blocking escape routes.  More eruptions are still expected as toxic gas plumes envelop parts of the island.
People in Hawaii are facing new warnings over toxic fumes produced when molten rock flows into the ocean, as the state continues to battle eruptions from the Kilauea volcano. Officials say two lava flows have reached the Pacific, creating thick hazardous clouds known as "laze." 
The clouds contain hydrochloric acid and glass particles which can cause irritation and breathing difficulties, reported the BBC.  The US Geological Survey describes laze as a "hot, corrosive, gas mixture."  When molten lava hits seawater, the chemical reaction can create "hazy and noxious conditions", the USGS said in a statement. Officials are warning people to stay away from areas where lava meets the ocean, as laze can cause lung, eye and skin irritation. "This hot, corrosive gas mixture caused two deaths immediately adjacent to the coastal entry point in 2000 when seawater washed across recent and active lava flows," the HVO said.
But the "laze" or toxic gas plumes aren't the only problems the volcano has caused.  The lava flows have also blocked escape routes. The threat from laze began after lava crossed Highway 137 late Saturday night and entered the Pacific Ocean, the Hawaiian Volcano Observatory said. This lava flow has also cut off parts of the road, a critical access point, which affects thousands of residents, reported CNN affiliate Hawaii News Now.
Lava bombs are also still a problem and have caused one serious injury so far.  Over the weekend, a man sitting on his porch was hit in the leg by a lava bomb, leaving him seriously hurt, according to Hawaii County Civil Defense Administrator Talmadge Magno. His leg was shattered at the point of impact. It's the first serious injury reported since the volcano began erupting May 3. "I heard the injury was quite bad," Magno told CNN affiliate KHON Saturday.
Flaming rivers of molten rock have already destroyed at least 40 structures. Additionally, the volcano has caused almost two dozen fissures to crack the Earth's surface open purging fountains of lava and dangerous sulfur dioxide. The USGS said the latest lava effusion near Leilani Estates is a "major eruption."
At the summit, a large explosion happened at around midnight on Friday night into Saturday, sending a plume of volcanic gas some 10,000ft (2 miles; 3km) into the air. Geologists are warning that the behavior of the lava flows remains unpredictable, but as of now, air travel has not been impacted. But with warnings of additional eruptions, the situation could go from horrible to much worse.