After nationwide calls to ban assault rifles and high-capacity magazines following the tragedy at Sandy Hook Elementary School, Americans concerned about the government's coming move to restrict the sale, the transfer, the importation and the possession of firearms deemed too dangerous to be in the hands of private citizens are cleaning out gun stores from coast to coast.
While some retailers have made the decision to suspend sales and stop selling certain firearms altogether, others are seeing sales skyrocket to never before seen levels. Parking lots are packed and hopeful shoppers are waiting hours for their chance to get their hands on weapons, parts and magazines that may soon be banned under Federal mandates.
The following photos taken over a three day period at a local gun store give us a glimpse of just how fast gun stores are clearing out their inventory. According to the shop owner who took these pictures, their store was selling upwards of one thousand guns per day.
Here's how the store looked on the Sunday before the frenzy:

On Monday: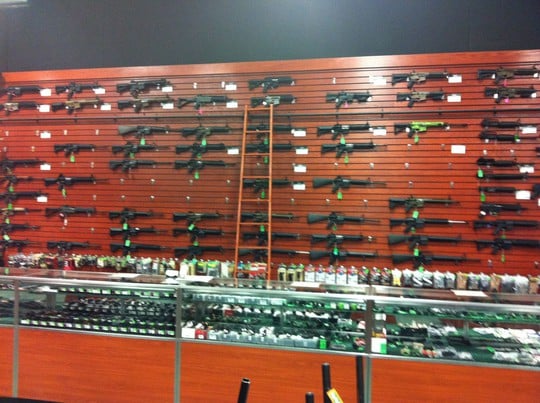 By Tuesday, shelves were almost clean: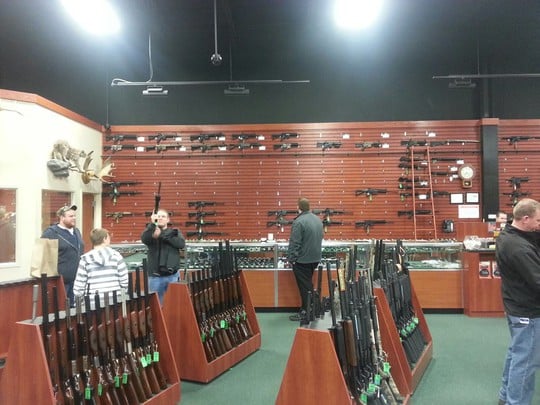 Magazines, especially high capacity magazines, are selling at such a rapid pace that supply and demand has led some retailers to charge three times as much for a single magazine then they did just a week prior to the frenzy. The following photo depicts a once full magazine rack.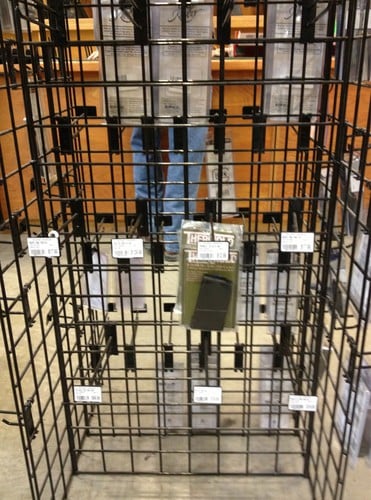 (Above Photos Courtesy of The Firearm Blog)
At New Frontier Armory in Las Vegas,  Nevada it has been so busy at one local shop that lines are stretching out the door and into the street (It almost looks like a banking panic!). While lines formed outside, there were reportedly at least 50 shoppers inside the store and everything was flying off the shelves – including over 200 AK-47 magazines which sold out in a matter of a few days.: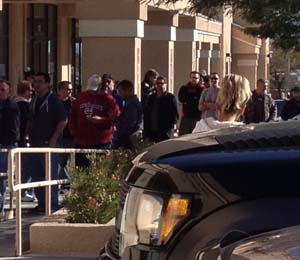 Scores of people await approval from the Federal background check system, which reportedly crashed due to the sheer volume of requests.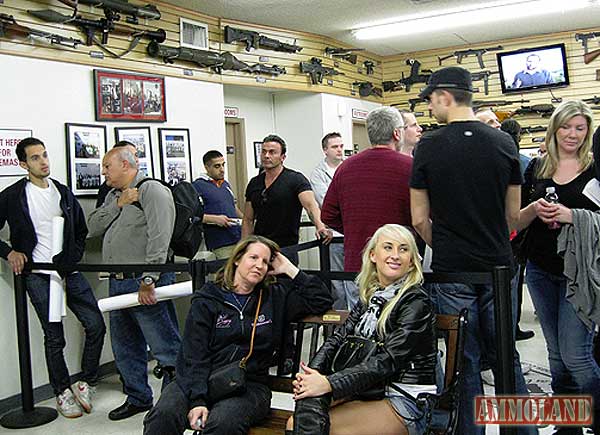 Video Report: Lines growing exponentially at gun stores; background checks taking in excess of 4 hours:
The Federal government has literally purchased billions of rounds of ammunition in the last two years. Coupled with the riot gear and cross-training of local law enforcement and military for domestic policing and detention operations, many believe they are gearing up for something big.
Moreover, the same government that is obviously mobilizing for some undisclosed future threat, is simultaneously taking steps to disarm American citizens.
Should there be any question as to why law abiding Americans are scrambling to local gun stores, web sites and gun shows to acquire self defense armaments ahead of what many believe may be an outright ban on ownership of firearms?