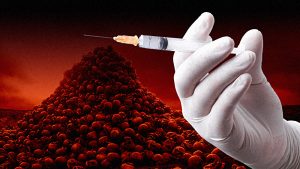 It has started with force here in the United States. People are beginning to see just how far their rulers will take things in order to get them injected with a "vaccine" that by all definitions, is not even a vaccine.
Grocery store chain Kroger has announced that they will deny benefits to their employees if they continue to refuse to be injected. The more the businesses and government push this shot, the more people are beginning to wonder why they need everyone to bow down and obey. Kroger will remove paid health benefits and charge a health insurance surcharge next year to employees who are not vaccinated against Covid-19 in an effort to convince people to get the shots, reported RT. 
A truly bizzare move that puts costumers at risk by encouraging workers to come in with COVID. If you really want to punish your unvaxxed employee just fire them or reduce their wages. This is the worst of all possible ideas. https://t.co/CBdBW5N8OK

— Jon Walker (@JonWalkerDC) December 14, 2021
This punishment is in response to not enough slaves working at Kroger being willing to take a $100 payment in order to roll up their sleeves and be obedient sheep.  The new crackdown on unvaccinated employees was announced in a company memo obtained by the Wall Street Journal.
Kroger is not the first company in the United States to charge unvaccinated employees extra for health insurance. Delta Air Lines announced in August that unvaccinated staff would be charged $200 extra per month "to address the financial risk the decision to not vaccinate is creating for our company."
DONE with @kroger

If you want to treat your staff like second class citizens b/c they make a personal choice, you will no longer earn my business. I will go out of my way to no longer shop w/ you. You're full on discriminating. I pray you get sued. https://t.co/NyATOrylog

— FreedomMama (@FreedomMama22) December 14, 2021
We can do things to enact change nonviolently. Refuse to shop at Kroger or any of the stores affiliated with it. We can also support anyone who quits their job over this obvious discrimination and hatred for the refusal to accept an unnecessary medical procedure that doesn't even work for those who have already taken it.
Resisting Tyranny Depends on the Courage to Not Conform
This is only going to continue to get worse unless all of us stand together and say "no." So far, we've allowed ourselves to be ruled over and fought over which master would be nicer with the whip.  It's past time to realize we don't need a master. We are not slaves, and we don't need anyone to tell us what to do and how to live our lives.  They will treat us this way until we make it known we will not longer comply and be stolen from and allow ourselves to be owned and controlled.