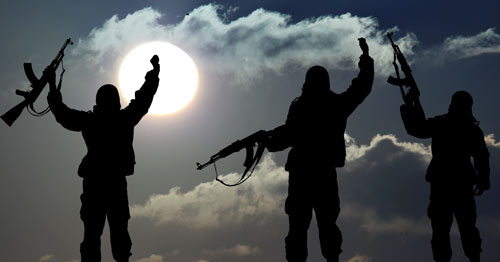 It may well be that the West is inadvertently fueling its own demise.
In a turn of bizarre and tragic events, a man who was released from Guantanamo Bay with the help of British legal aid has now killed himself in a suicide bombing that targeted a military facility in Iraq.
The UK-born citizen was compensated handsomely for his time in the notorious prison for terrorists, only to turn around and return to Syria and Iraq to wage jihad.
via the Daily Mail:
A British ISIS suicide bomber has been revealed as a former Guantanamo prisoner who was handed £1million in taxpayers' money as compensation before fleeing to Syria.

UK national Jamal Udeen al-Harith was photographed moments before blowing himself up in an attack on a military facility near Mosul in Iraq.

The Muslim convert – who changed his name from Ronald Fiddler in 1994 – was sent to Guantanamo Bay in 2002 after he was caught by American forces in Afghanistan.
al-Harith/Fiddler was released a couple of years later, and sued the government for monetary damages after making the case that he was misidentified as a terrorist, and mistreated during captivity.
But ironically, and due to a lapse of securtiy, he returned to the terrorism fight after being reintegrated into to normal life in British society.
He launched a compensation claim on the grounds British agents knew or were complicit in his mistreatment and was handed £1million to stay silent.

… [D]espite security services being fully aware of his previous detention, al-Harith, who worked as a web designer for a time, was able to escape the UK in 2014 to fight with ISIS in Syria, leading to his eventual death.

[…]

His journey was revealed following an escape from ISIS-controlled Syria in 2015 by British mother Shukee Begum and her five children.
Somehow, it is as if the West is chasing – and biting – its own tail in the Middle East, eating up all gains that is has won, and ensuring that a cycle of perpetual violence, war and turmoil will continue in the region.
How did things get so twisted that the UK, or U.S. or any other "friendly" country could be funding its own enemies, funding terrorism and sowing the seeds of destruction?
Read more:
As Terror Attacks Hit Home, U.S. Caught "Bombing Syria to Aid ISIS"
Homeland Security "Concerned About Security Breach" From ISIS As Refugees Prepare to Flood America
New Patch for U.S. Troops Fighting ISIS… Looks Like ISIS Logo
US Complains As Putin Bombs its Terrorists: "ISIS Is An Intentional Creation of U.S."
ISIS Fires American-Made Missiles At Syrian Army: "U.S. Funding, Arming ISIS From the Beginning"