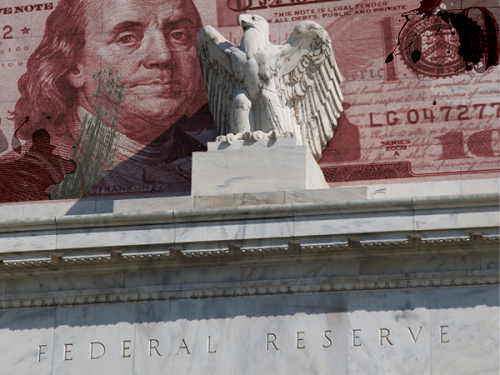 While there are plenty of experts out there who will tell us the economy is doing just fine and none of us should worry about a recession, the Federal Reserve slashed the economic growth prospect for the United States. The news seems bleak right now.
Federal Reserve chairman Jerome Powell has said that he doesn't expect a recession, but he's saying there will be an economic "slowdown." According to CBS News, the Federal Reserve kept a key interest rate unchanged on Wednesday and said it doesn't expect to hike rates for the rest of the year. This is quite a change from the course the Fed was on in December when the central bank expected two rate hikes. The Fed also expects the U.S. economy to expand 2.1%, which is lower than previous projections, which they assumed to be at 2.5%.
"We foresee some weakening, but we don't see a recession," Federal Reserve Chairman Jerome Powell said Wednesday in a press conference. In its policy statement, the Fed said that the job market remains "strong" but noted that "growth of economic activity has slowed" since late 2018. The Atlanta Federal Reserve Bank, which provides a so-called "nowcasting" tool to assess current growth, says the economy is growing only growing at a 0.4 percent in the first quarter of 2019.
The Fed also projects one quarter-point rate hike in 2020 and none in 2021, although that could all change. It will stop shrinking its bond portfolio in September as well. That move alone would help hold down long-term interest rates. The Fed's pause in credit tightening is in response to slowdowns in the U.S. and global economies. It says that while the labor market remains strong, "growth of economic activity has slowed from its solid rate in the fourth quarter."
But The Fed cannot fix credit exhaustion. 
https://www.shtfplan.com/headline-news/central-banks-prepare-for-a-slow-down-in-the-economy-but-the-fed-cant-fix-this-crisis_03202019
Too many Americans are too far in debt to borrow any more money and that could present some major problems in the economy. With student loan debt, auto debt, and credit card debt at all-time highs, any interest rate hike could devastate a family living paycheck to paycheck, but it could also pop the "everything bubble" many analysts have warned about for several months now.
https://www.shtfplan.com/headline-news/living-paycheck-to-paycheck-the-new-crisis-and-normal-for-the-american-middle-class_02072019
Despite the recent dip in economic growth, Powell said that U.S. "economic fundamentals are still very strong," adding that Fed officials "see a favorable outlook for this year." They expect the unemployment rate to drop from 3.8% to 3.7%.