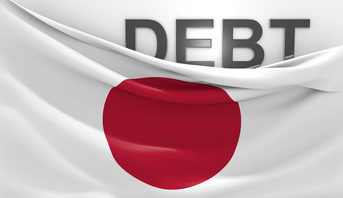 For many who live in Japan, it's just another day for the country to grow older and deeper in debt. While the International Monetary Fund (IMF) estimates Japan's debt at roughly 240% of Gross Domestic Product (GDP), an anti-austerity movement there is attempting to make the argument that now is the time to borrow even more money.
For a nation already $10 trillion in debt, borrowing more seems like insanity. According to the Wall Street Journal, Japan's debt is already twice the size of their economy, however, far too many believe the solution is to just borrow more money.  Their public debt load is actually the largest in the world. But the United States is still borrowing about $1 trillion a year while already $22 trillion in debt setting a terrible example.
Instead of reforming their monetary policy, the Japanese government and its citizens are content to borrow more money with no regards to the future collapse of their entire economy: which was built on a debt-based system.  And they could drag the global economy with them, as debts worldwide have reached historic and epidemic levels.
"The real game changer will be when households take [a] risk" with assets that now amount to about $17 trillion, says Shigeto Nagai, an economist who previously worked at the Bank Of Japan. The country is now in "kind of slow-moving, chronic crisis," he says. And it's a debt crisis, one the entire globe is currently stewing in; governments, corporations, and civilians alike are all buried by debt.
https://www.shtfplan.com/headline-news/historic-debt-is-at-the-core-of-our-economic-decline_12102018
The idea that one can have something that they did not yet work for or pay for is addictive, as evidenced by the insane epidemic of record levels of debt. Living within one's means is not "admirable" to the masses, who prefer the falsehoods of borrowing to keep up with their neighbors. Those same neighbors have likely also borrowed massive amounts of money to obtain things they can't afford. Debt is a drug. And the elites and banks have known this for a long time and have exploited billions of people using it as a tool to rob personal wealth.
Without extreme debt conditions, economic downturns cannot be created (or at least sustained for long periods of time). According to the amount of debt weighing down a system, banking institutions can predict the outcomes of certain actions and also influence certain end results. For example, if the Fed was interested in conjuring a debt based bubble, a classic strategy would be to set interest rates artificially low for far too long. Conversely, raising interest rates into economic weakness is a strategy that can be employed in order to collapse a bubble. This is what launched the Great Depression, it is what ignited the crash of 2008, and it is what's going on today.

The massive debt burden makes recovery difficult, if not impossible, and thus the system becomes increasingly dependent on the banking elites to resolve the problem.

Debt is the fuel that keeps the centralization machine running. –Birch Gold Group
And this is no different for the Japanese. "Financing government spending by printing money is as old as paper money itself," commented Charles Gave of Gavekal Research. "The Song Dynasty did it. The Weimar Republic did it. And Robert Mugabe and Nicolás Maduro both did it," Gave said. "But perhaps the closest historical parallels to today's Modern Monetary Theory (MMT) proposals are to be found in 18th century France – two of them in the same century!" And every time money is printed under the guise of "helping people," the debt explodes, economies crash and people are impoverished.  Yet there are still too many calls for more borrowing, larger deficits. Then those who called for more government debt, go out and borrow the newly printed money with no idea how they'll ever pay it back.
The vicious cycle has been tried repeatedly by governments and central banks for over a century now with consistent and similar results: poverty for the civilians, power and wealth for the government officials and bankers. You can break your own cycle with debt and free yourself. It starts with one…