Not sure what to get the kids for Christmas? If you're one of the lucky receipients of a large bonus funded by US taxpayers via the TARP bailout, why not consider a 24 Karat Gold Sony Playstation 3?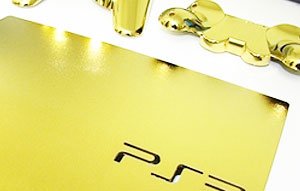 Product Description:

Better late than never, we're unveiling our 24kt Gold Playstation 3 Slim today. Pricing starts at $4,999 USD. All new consoles come with two matching controllers, your choice of a plated or anodized PS3 logo, and a one year full coverage warranty.