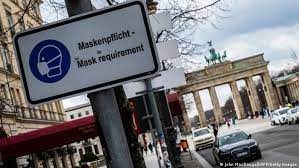 The German ruling class is still trying to figure out how to impose new and harsher lockdowns on its slaves as people start to figure out this scam. After canceling Germany's draconian Easter lockdown last month, due to backlash from the slaves, another lockdown is on the table once again.
Dictator Merkel Takes a Step Back After Issuing Draconian Lockdown Orders Over Easter
German Chancellor Angela Merkel "took full responsibility" for her misjudgment over the Easter lockdown. But, now it looks like her government (the ruling class) is reverting to the decision that new COVID-19 restrictions need to be put in place, before spiking COVID cases lead to a surfeit of deaths. Bringing in the propaganda to try to manipulate the masses into willingly accepting their slavery has become the new normal.
A new proposed plan has been developed to implement nighttime curfews, sweeping business closures and severe limits on public gatherings. These measures, and more, are all part of the German government's new bill aimed at "standardizing" COVID-19 measures to stop the third wave. -ZeroHedge
According to a report by RT, Berlin is currently working on amendments to the national Infection Protection Act, which would reimpose lockdown restrictions and greatly reduce the federal states' ability to defy the government's orders, the German media which obtained the draft document report. The document that is expected to be discussed and potentially approved by Chancellor Angela Merkel's cabinet on Tuesday will require all federal states where an average seven-day COVID-19 infection rate will rise over 100 per 100K people.
Such states will no longer be able to find any excuses to avoid imposing the so-called "emergency brake."
This bill could be imposed on the slaves as early as April 19 after the government does their magical ritual and makes it a law that they can do whatever they want to anyone else.
When are we going to figure out that some people don't have more rights than the rest of us?