This article was originally published by Dane Wigington at Geoengineering Watch.org.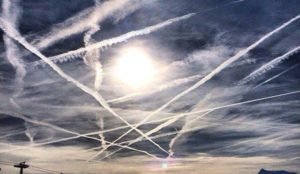 Global power structures are more desperate and dangerous than ever before, unfolding and accelerating ecological collapse is further fueling that desperation. Behind the curtain of conflict between nations, covert cooperation continues on core issues like climate engineering, there is no other possibility.
The "Department of Homeland Security" now seems to be categorizing as "an enemy of the state" any who dare to voice their opinion about our government, welcome to totalitarianism. The constant parade of completely engineered winter weather mayhem is wreaking havoc on populations in some regions while engineered drought is doing the same elsewhere. How dark will the wider horizon have to get before a larger percentage of the masses wake up to the fact that what we collectively face is nothing short of a fight for life? The latest installment of Global Alert News is below.
All are needed in the critical battle to wake populations to what is coming, we must make every day count. Share credible data from a credible source, make your voice heard. Awareness-raising efforts can be carried out from your own home computer.
**EDITOR'S ADDITIONAL NOTES:
The Brookings Institute has declared geoengineering is here and they want to prepare the U.S. for "governance" (which translates to "control") in a geoengineering future. The rulers are destroying the planet and blaming it on us! We can only imagine what blocking out the sun will do to farming and the production of food in the future.
Carbon dioxide removal as a climate solution has been largely embraced, as the risk of unintended consequences is considered minimal. Solar geoengineering, on the other hand, presents a variety of complicating issues. –The Brookings Institute
Carbon dioxide removal? Does anyone not understand that plants (which provide the planet with food) require carbon dioxide to live and thrive? We had better wake up and do so soon, or we will be subjected to whatever the rulers already have in store for us.