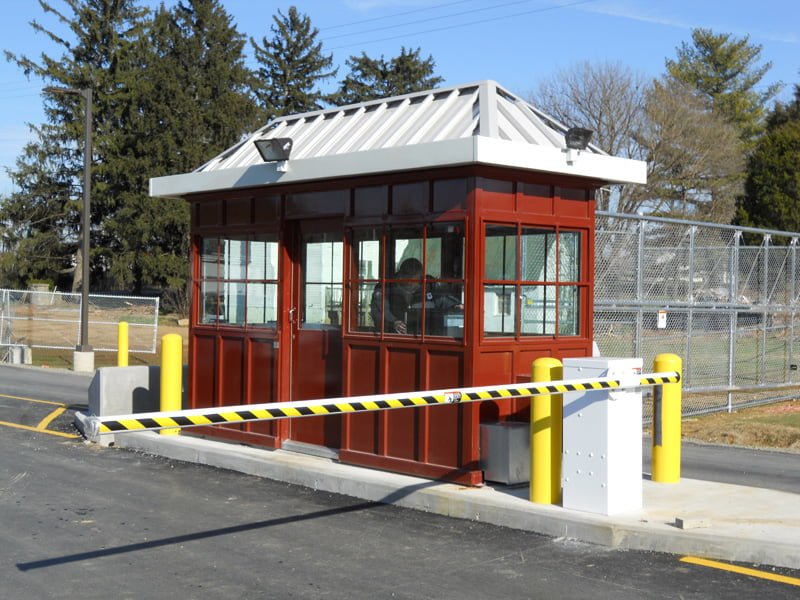 Pictured: Shelters Direct DHS 'Overwatch' Booth (link)
The Department of Homeland Security has made news in the past few weeks with the revelations that they have purchased up to 650 million rounds of .40 caliber hollow point ammunition.
Now, despite ignoring requests as to why they need that much ammo, they have moved forward and purchased an unknown amount of bullet resistant booths to possibly be stationed at unannounced checkpoints throughout the country.
A press release from the company that supplied the booths bragged about the sale:
Press release date: April 4, 2012

Owner: Department of Homeland Security

Project Description:

Shelters Direct provided the Department of Homeland Security with this 4×13 Steel UL 752 Level 3 Bullet Resistant Booth. 

This guard building features a standing seam hip roof, a thru-wall HVAC unit, (2) UL 752 BR Level 3 sliding doors, UL 752 Bullet Resistant Level 3 glass and a Low]E coating.
These booths seem destined to be used at checkpoints throughout the country as DHS and other government agencies continue their full scale takeover of America.
As we have heavily reported in the last few weeks, numerous government agencies have went on an ammo buying spree, with the total amount reaching well over 700 million rounds.
"In the last three years numerous domestic US government agencies have ordered a total of over 750 million rounds of .40 caliber ammunition.
That's right, multiple government agencies that specifically operate primary inside the United States have gone on a literal ammunition spending spree in preparation for what they must believe will be some sort of violent event."
Whether it be 140 million packets of emergency food, detention centers in all 50 states,750 million rounds of ammo, or numerous bullet resistant checkpoint booths, the Department of Homeland Security is clearly gearing up for something.