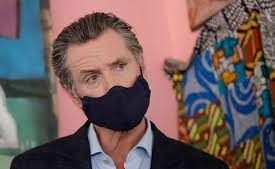 California governor, Gavin Newsome admitted that he has not "vaccinated" his 12-year-old daughter with the COVID-19 shot that isn't a "vaccine." This comes as the tyrant pushes these shots on all of those aged 12-17 in California, and as he continues to push hard for a broad vaccine mandate.
Newsom told the Los Angeles Times on Thursday that his daughter, who turned 12 last month, has not yet received the vaccine because she was scheduled for "a series of other shots." However, on Saturday, the Washington Examiner reported that the governor's office told the publication that the 12-year-old would receive her Covid-19 vaccine shot "in a few days."
Even if she does get the shot, does anyone actually believe that this kid will be injected with the same garbage as our kids will be?
How is this not the biggest story in America right now.

Gavin Newsom mandates everyone else's kids to get Covid vaccinated yet he doesn't get his own kid Covid vaccinated, basically admitting that she doesn't even have her other vaccines yet, the actually effective ones. pic.twitter.com/KfF1wln6i8

— Marina Medvin ?? (@MarinaMedvin) October 10, 2021
Last Friday, Newsom announced that vaccines will be mandatory for kids between 7th and 12th grade, aged between 12 and 17 years, once the FDA fully approves the jab. So far, Pfizer-BioTech's Covid-19 vaccine is the only one available for children in the US. The jab received emergency authorization to be used on children 12 through 15 in May, and the FDA's full approval for the age group is still pending. –RT
Did The FDA REALLY "Approve" The Experimental Gene Therapy Shot?
While touting the statewide mandate for school children as a first for the U.S., Newsom said he hopes that the move would ramp up lagging vaccination rates among teens. "From 12 to 17, we're not where we need to be, and so we hope this encourages folks to get vaccinated," Newsom said. At least 63.5 % of Californians aged 12-17 have received their first Covid-19 dose.
They are coming for all of us, even our kids. Regardless of what you believe about this shot, forcing people to get it will only make them more aware of the fact that it is a large part of the ruling class's overall plans.