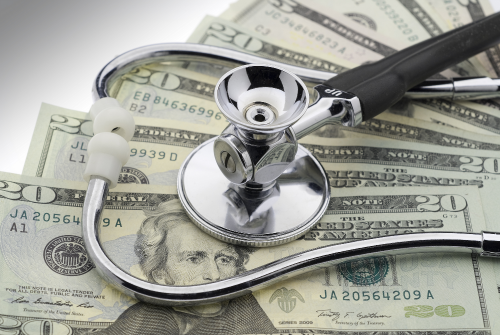 Is there any government agency that has strayed further from it's stated mission than the U.S. Department of Veterans Affairs? This is an organization that claims to be a champion for the health of our military veterans, while 100,000 these veterans are backlogged in their system, waiting to be treated. Several years ago it was far worse, with 900,000 disabled veterans waiting for their claims to be processed, many of whom died before they could be treated. Clearly this medical system is a total failure, and a disgrace to our veterans.
A veteran from New Hampshire by the name of John Irish has come face to face with that unfortunate reality many times. During a recent interview with Boston25 News,  the former National Guard medic revealed that he had suffered a cut on his hand from a power tool that was so severe, he had to go to the hospital
When he approached the VA however, they refused to pay his bill as they had done many times before. His dramatic response convinced them to finally cover his procedure.
"They handed me a slip of paper saying, 'we are going to have to have you sign this, because the VA says they're not going to pay the bill," he said.

Irish receives benefits through the Veterans Affairs Choice program, which allows vets to access private care amidst lengthy wait times at VA medical facilities.

Irish says Veterans' Choice has refused to pay for other bills and this was the final straw.

"I thought it was about time the VA of New England got exposed for what it's doing on this Choice program," he said.

Irish threatened to remove his own sutures, in his home, live on social media. Within hours, the VA agreed to pay for the procedure.

"It's totally disgusting that they have to threaten, beg or borrow to get medical treatment," he said.
And perhaps what's more disgusting, is how the VA is trying to act like this never happened.
Lahey showed Boston 25 medical records that indicate last week, the hospital received a call from the Manchester VA stating about the sutures procedure. The VA also requested a follow-up physical for later this year.

But late Tuesday afternoon, a VA spokesperson told Boston 25, "a review of our records show there was no prior contact or authorization regarding Mr. Irish.

She also said, "no care or payment had been denied."
This shouldn't come as a surprise, considering that the VA has been investigated dozens of times for falsifying records and manipulating schedules to cover up the massive wait times that veterans have to endure at their facilities. This agency clearly has no problem with lying to the public and their patients. After treating our veterans like garbage for years and facing countless scandals, they have hardly made any effort to change their ways. Unfortunately, that's all you can expect from government run medical care.