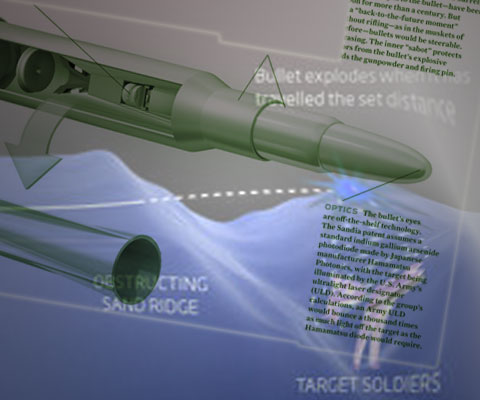 This article originally was written by Cassius Methyl, and appeared at theAntiMedia.org.
Editor's Note: As author Cassius Methyl makes clear, though success for DARPA's secretive defense research relies upon an image that makes it seem all-powerful and intimidating, these emerging future weapons are proving attractive options for future conflict. The trend of development for smart and deadly tools is coalescing in a manner that leaves no one truly free from the terror of a State with the power to track down and eliminate anyone who becomes classified as an enemy.
In the future, justice will be swift, but hardly blind, under the pervasive watch of the all seeing eye. Autonomous, weaponized drones alongside killer robots and an ever-expanding web of tracking data and personal information clearly diminish the remaining glimmers of humanity in modern warfare and put any individuals caught in its cross hairs at a considerable disadvantage.
———–
Video: Inescapable "Smart Bullets" Developed by DARPA for the US Military
The Defense Advanced Research Projects Agency (DARPA) is arguably one of the most terrifying limbs of the US Government. Every week they announce progress on some outlandish new weapon. Though surely they want enemies to be terrified, the technology should not be taken lightly.
This time, they say they are in the late stages of developing bullets you can't dodge — 'smart bullets' that will hit a target even if its aim is off. These smart bullets are .50 caliber rounds equipped with optical sensors.
In February, DARPA says they "passed their most successful round of live-fire tests to date". The tests concluded that the shooter "repeatedly hit moving and evading targets". The rounds take sharp turns in mid-air to hit targets in any situation.
DARPA's statement continued, "Additionally, a novice shooter using the system for the first time hit a moving target." The smart bullet program has been named EXACTO, an acronym for "Extreme Accuracy Tasked Ordnance".
"True to DARPA's mission, EXACTO has demonstrated what was once thought impossible: the continuous guidance of a small-caliber bullet to target," said DARPA's program manager Jerome Dunn.
Jerome Dunn apparently believes DARPA's mission is to arm this government with power the world has never seen, with no regard for consequences.
"This live-fire demonstration from a standard rifle showed that EXACTO is able to hit moving and evading targets with extreme accuracy at sniper ranges unachievable with traditional rounds. Fitting EXACTO's guidance capabilities into a small .50-caliber size is a major breakthrough and opens the door to what could be possible in future guided projectiles across all calibers," Dunn continued.
Here is an animation of how the rounds work.

Picture the implications of armed drones with facial recognition technology, combined with a biometric database of every single American and these new smart bullets. These are all things DARPA has already created or is currently working on.
The power they will have if someone doesn't stop this is unimaginable. If all goes to plan, DARPA will make the US government all but unstoppable. That's a frightening prospect considering that studies have show the US government has become an oligarchy. DARPA could eventually enable the US Government to wage any war, destroy any enemy, and do anything else they want as long as they have funding. That's no exaggeration.
So who will eventually realize that this is an impending danger that cannot be ignored? When will someone try to put a stop to DARPA? Considering the US' history of turning weapons of war against its own citizens, these questions must be asked.
I'm a thinker, writer with The Anti Media, activist for a voluntary society (performing a civic duty to better our society), an experimental musician / artist, and a mystic. My 2 musical projects are 'Core of a Virus' and 'Corporate Concrete Portals', and they can be found on my youtube here – https://www.youtube.com/user/KillBabyMurderers – my facebook page can be found here – https://www.facebook.com/CassiusMethyl33 –