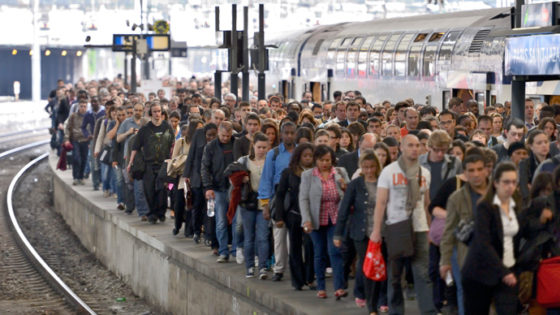 French rail workers have launched three months of rolling train strikes. The strikes are on schedule to become the largest and most chaotic industrial action against Emmanuel Macron's drive to overhaul state transport and liberalize the economy.
The media is calling the protests "Black Tuesday," while simultaneously attempting to deflect from the left-of-left dictator in charge, Emmanuel Macron. The opening day of train strikes was expected to cause disruption for France's 4.5 million rail passengers after around 33% of all train staff and more than 75% of drivers walked out.
The rail sector is traditionally one of France's riskiest political issues. It's quickly become a battleground on which Macron is refusing to budge in order to prove that he can face down strikes and continue with a liberalizing overhaul of other sectors.
The government argues that France's heavily in debt state railway company, the SNCF, has to be made more efficient before local and national passenger services open up to competition in coming years under EU rules.

The government intends to cut rail workers' special employment rights so that new hires would not have jobs for life or special retirement provisions. But there are also plans to change the SNCF structure, turning it into a publicly listed company. -The Guardian
Leftists worry that should the government own 100% of shares in the rail company that it would lead to complete privatization. The Socialist politician Julien Dray warned of a veiled plan for "rampant privatization." (Oh no! Not the free market handling transportation! It's like Armageddon!) Of course, the French government denies that they want privatization, which is probably true.  Governments don't like the free market as it's incredibly difficult to control and manipulate.  They'd more likely than not total control of all services.
The standoff has become a public relations battle that has hit at the heart of Macron's liberalization program. "We need to rid this country of its strike culture," Gabriel Attal, a spokesman for Macron's party, La République En Marche, said on Monday.