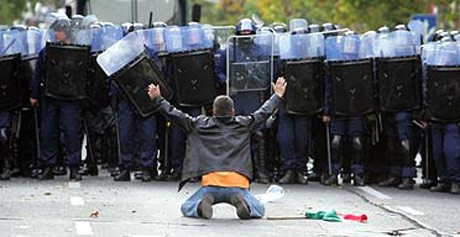 Against the dictate of the French ruling class, many have decided to live freely in the wake of more draconian COVID-19 restrictions. Because of this, the masters of the country have called on their "enforcers" to make sure the slaves continue to comply with their edicts.
Members of the French ruling class have vowed to increase their enforcement presence on the streets this weekend as they struggle to enforce a 6 pm-6 am curfew on those willing to live freely during attempts at further enslavement. The masters claim they need the slaves to comply amid soaring Covid-19 infections across the country and in the capital, according to a  report by RT. 
"If the police find groups of people in which respect for social distancing cannot be guaranteed, in particular on the banks of the Seine and in public parks and gardens, they are instructed to proceed with their evacuation," the Paris police department confirmed on Friday, as it announced the mobilization of 4,400 officers this weekend. The police also urged people to ensure they reduce their social contacts to a maximum of six people and avoid any travel outside the Paris metropolitan area in order to prevent spreading the virus to other regions exert control and keep those pesky slaves that want to be free in line.
After Brainwashing People For Decades, MSM and Governments Are Losing Control of People
Since mid-January, the country has been under a nighttime curfew running from 6 pm until 6 am, but that's only for the slaves who are supposed to be serving the ruling class. The rulers can do as they wish. However, the good news, is that this ruling class's effectiveness at controlling the public is waning. Not only that, but the curfew hoax (used only as a method of control)  has been called into question in recent weeks with 23 regions of France placed under "reinforced surveillance" over a rise in Covid-19 infection rates. Stricter measures have been brought in at weekends for Nice and Dunkirk already and will be imposed in the northern area of Pas-de-Calais as of Saturday.
People worldwide are beginning to figure out the truth about government. Government is slavery, and now that people know, they also know they have no obligation to obey or be enslaved just as the ruling class has no real authority, only that perceived by those they rule over. People all over the globe are waking up and ruling classes are panicking.