Earlier this year when a sixth grade lesson plan asked elementary school students to create a communist flag of America, many parents were outraged.
But don't think for a second that it stopped there. In fact, the indoctrination of young minds supported by officials like Attorney General Eric Holder, who once suggested we must brainwash the second amendment out of American schoolchildren, continues without respite.
In Jacksonville, Florida, a fourth grade student proves, once again, that progressive leaning educators are actively working to redefine what it means to be an American.
The following note was found by the father of a student who recently attended a class in which the kids discussed the U.S. Constitution.
"I am willing to give up some of my Constitutional rights in order to be safer or more secure."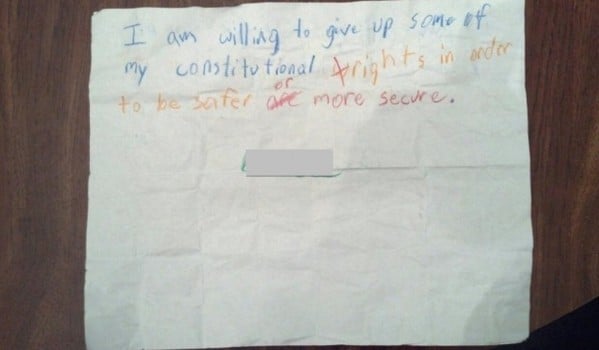 (Image courtesy The Daily Sheeple)
A Florida father is furious today after finding a note written in crayon in his son's school book bag about his constitutional rights.

…

Aaron Harvey stated that when he went through his son's backpack that he found a note written by his son in crayon reading,"I am willing to give up some of my constitutional rights in order to be safer or more secure."

Harvey reveals that this note was written after his son's class had recently had a lesson about the U.S. Constitution.

…

Harvey reveals that he talked to his son about the note, who said his teacher had spoken the sentence out loud and told them to write it down. Harvey said he asked some of his son's classmates and got a similar answer.

…

"I am strongly for proper education, for the freedom of thought so you can form your own opinion and have your own free speech in the future… [but] the education is, 'when was the Constitution drafted, when was it ratified, why did this happen, why did we choose to do this… all these things, why did they particular choose those specific rights to be in our Bill of Rights.'"
It's one thing to educate children and expand their understanding of the various political systems. It's a completely different matter altogether when progressive educators attempt to mold their minds without giving them the ability to think for themselves. 
Dictation without discussion is nothing more than brainwashing based on the principle of repeating the same message over and over until the target individual begins to believe it without question.
Ronald Reagan once said, "freedom is never more than one generation away from extinction."
There are millions of people right now in America who are working hard to make sure the US Constitution and our rights to life, liberty and the pursuit of happiness go the way of the dinosaurs.